Posted by Ben Golliver.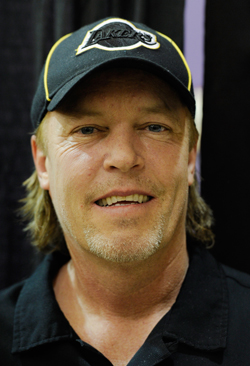 Is Los Angeles
Lakers
VP Jim Buss the least respected executive in the NBA?
That's a question we have to ask as the list of people who have gone public to criticize him continues to grow longer and longer.
First, there was a flap over new coach Mike Brown, which ended with Buss
essentially apologizing
to Lakers All-Star guard
Kobe Bryant
for not consulting with him on the hire. Then, long-time and well-respected assistant coach Brian Shaw, who was a top candidate to replace Phil Jackson,
took the unusual step
of blasting Buss on a radio interview for his treatment during the hiring process.
But this tops it all.
Former Lakers Assistant GM Ronnie Lester was one of many casualties of the recent decision by the Lakers to not renew contracts or to lay off employees during the lockout.
In an interview with the Los Angeles Times
, Lester takes shots at the organization and Buss in particular.
"You think of the Lakers and you think they are a great organization," Lester said. "But if you work inside the organization, it's only a perception of being a great organization. It's probably not a great organization, because great organizations don't treat their personnel like they've done."

"Jim Buss is not around much," Lester said. "The only time he is here consistently is a week or two before the draft."
In NBA executive circles, respect is achieved in one of three ways. You're either 1) a former player, in which case it's given to you until you prove yourself to be incompetent, or 2) a rags-to-riches story who rises through an organization through determination and hard work before executing solid trades and drafts to establish your reputation, or 3) you're the direct relative of the team's owner, in which case you better make friendly with everyone and hire good basketball people that you trust to make the decisions, and then let them make the decisions.
Unlike Nick Arison, the son of the owner who was
recently promoted
to CEO of the Miami
Heat
, who is seen as a hard-working fresh face who understands that president Pat Riley must call the shots, Buss has now been accused of two major internal crimes. One: he sloppily ran a coaching hire, trumping the authority of his long-time GM and communicating so poorly throughout the process that he got put on blast by Shaw. Two: he made these decisions while being largely an absentee manager. This is heading the wrong direction, and it's heading there quickly.
Lester's charge is perhaps even more damning than Shaw's. NBA executive circles are just as tight-lipped as coaching circles, if not more so. To speak out against one's own organization can be viewed as a death sentence, not only with that team but around the league. That Lester would bother to take that risk, when he certainly doesn't have to, shows how strongly he feels the Lakers were in the wrong here. Really, he's almost achieving a whistle-blower status, pulling back the veil on some organizational unprofessionalism.
And who bears the brunt of that burden? Jim Buss, of course. As with any executive that's being charged with making rookie mistakes and faux pas, I guess we have to ask whether Buss even realizes that he's messing up. How many more distraught interviews with former employees will it take for Buss to realize that something is fundamentally wrong with his approach?
The NBA is the ultimate bridge-building world and Buss is busy shooting more fireballs than the Mario Brothers.