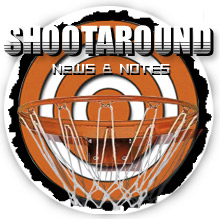 Former NBA player turns club DJ, questions about Tyreke Evans' foot, Derek Fisher drops the Clippers, the Blazers fret about a lockout, Antoine Walker airballs a free throw, and a bunch more. Posted by Ben Golliver.
Former Miami Heat center Rony Seikaly is now a party DJ playing in clubs across the globe, the New York Times reports. "I'm not doing this to be a celebrity," Seikaly said. "I'm not doing this to become famous. I'm doing this just to share the love, and to share the music."
Duke point guard Kyrie Irving, the potential No. 1 overall pick in the 2011 NBA draft, "could miss the rest of the season with a right toe injury," Duke coach Mike Krzyzewski told the media.