Posted by Royce Young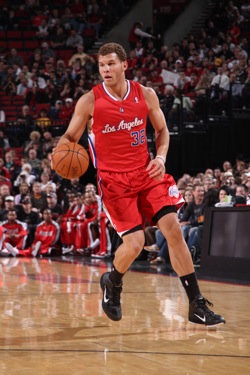 Somehow,
Blake Griffin
has become maybe the most forgotten No. 1 overall pick ever. Busting a knee and missing your entire first season will do that to you. But then again, even after
Greg Oden
did the same, people couldn't stop talking about the Blazer big man.
Maybe that's actually good thing for Griffin.
But after taking almost a full year off from real competitive basketball activity, Griffin returned to the court last night in the
Clippers
' first preseason game. His line won't wow you - nine points, seven rebounds, five turnovers in 22 minutes - but keep in mind, this was his first night back. He can tell us that he wasn't thinking about the knee and that the mental part of returning from injury is past him, but on his first night back on the hardwood, surely he was thinking about it.
Here's the thing though: Griffin is back. He's completely healthy. His explosiveness is there, his lateral quickness is there and his ridiculous ability for a 6'10, 265-pound beast, is there.
The best description you can give Griffin on the basketball court is an animal. If he were a defensive end, every analyst would talk endlessly about his motor. They'd talk about how he never quits on plays. He lays it all out on the court and though last night's affair against the Blazers was a meaningless preseason game, that signature Griffin energy, hustle and desire was there.
While other rookies like
John Wall
and
DeMarcus Cousins
are
raising more eyebrows,
Griffin quietly had a decent comeback night. It wasn't anything spectacular and it wasn't a box score line that made you take notice. But if Griffin showed anything last night, it's that you'll be reminded of his presence often this year. It's hard to overlook a player of his caliber for too long.
ON THE OTHER HAND, TWO ROOKIES WHO HAVEN'T BEEN VERY IMPRESSIVE
Al-Farouq Aminu, Clippers
- Whoa boy. Not the debut the rookie has been dreaming about. Eighteen minutes, one point, four turnovers, 0-3 from the field, zero rebounds, assists, blocks or steals. And he fouled out. Yikes and yikes.
Granted, not everyone should expect all rookies to have impressive performances their first time out on the NBA hardwood. There's a litany of factors. Nerves, preparation (or lack thereof), ignorance - all of that and more can add up to a rookie crapping the bed in his first appearance.
Our future CBS friend Ben Golliver had this to say about Aminu:
"You've heard of the 'deer in the headlights' look? This was more like a "'I'm standing underneath the meteor that created the Grand Canyon and both my legs are broken and uh oh it's about to hit me oowwwwwwww' look. Off the top of my head I can't think of another player who had his combination of physical potential and complete mental unpreparedness during the last four seasons."
Have I said "yikes" yet? Oh, twice already? That's probably a bad sign.
However, it's not like Aminu impressed new coach Vinny Del Negro much. Especially not to the point where Aminu is looking at real NBA playing time this year. While it's only preseason, this is a chance to shine, to make an impression. And Aminu definitely made one. Just not a good one.
Derrick Favors, Nets
- Some good, some bad for the new Nets big man. I'm sure the
Nuggets
have a close eye on Favors right now and you can guarantee the Nets are hoping he showcases some serious skill.
And while his first game numbers aren't bad (14 points, nine rebounds, 6-8 from the floor in 20 minutes), his second game was a bit underwhelming (four points, five fouls, three turnovers, one rebound in 13 minutes). It's not that Favors didn't flash ability, it's just that he showed what rookies in his mold are like. Inconsistent.
Favors is a project and to expect him to translate his ridiculous athletic ability into something now is unrealistic.
Sebastian Pruiti of NetsAreScorching put it well:
"Derrick Favors struggled with fouls the entire night and fouled out in slightly more than 12 minutes of playing time. I didn't see the game, but I am guessing that Favors got pump faked one or two times. Bad games are going to happen with a 19 year who is still learning. The key is for these bad games to take place less and less."
Exactly it. Favors isn't winning Rookie of the Year. He's part of a process and the more minutes he sees, the better it'll get.