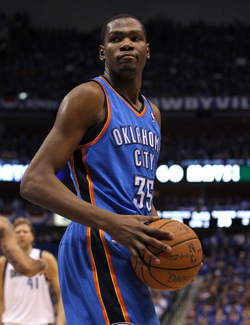 Posted by Royce Young
You need basketball.
I
need basketball. We wouldn't have it now anyway, but the prospect of not having it at all next year is a terrifying idea. That's why people have taken an odd amount of interest in players participating in exhibition games overseas.
Well, now there's going to be a pretty significant streetball exhibition and it's happening in Washington, D.C.
We told you there was a possibility of this
and now it's pretty much definitely happening.
The legendary Goodman League is set to take on the legendary Drew League in a showdown taking place Aug. 20. (
You can watch a stream of it here
.) And the rosters aren't going to disappoint.
Kevin Durant
leads the Goodman and joining him will be
John Wall
,
Ty Lawson
,
Gary Neal
,
Tyreke Evans
,
Michael Beasley
,
DeMarcus Cousins
,
Josh Selby
,
Sam Young
,
Donte Greene
and from the And1 Tour Hugh Jones, Emmanuel Jones and Warren Jefferson.
For the Drew,
James Harden
,
DeMar DeRozan
,
Nick Young
, Dorrell Wright,
Brandon Jennings
,
JaVale McGee
,
Craig Smith
,
Pooh Jeter
,
Bobby Brown
(Aris BC),
Marcus Williams
and three more players yet to be named.
Durant, of course, has been playing in the Goodman League at Barry Farms for a long time, kind of making it his second basketball home. It's sort of the place to be for good pro-am hoops on the East Coast right now. The Drew League has become the premier pro-am league on the West Coast. So it's only natural someone organized a showdown.
With a dark summer of no official basketball because of the lockout, you should be very, very excited for this. And there's no doubt the Goodman has a major edge here. First, it's in D.C. Second, look at that roster. KD, Wall, Lawson, Reke and Beasley are quite the core. Harden's been tearing up the Drew (he scored 52 there a couple of weeks ago), but the Goodman roster is way better.
I mean, who the heck is guarding Durant? Dorrell Wright certainly will get the call, but the Goodman has a ton of speed. Of course, I'm hoping to see Harden on Durant for most of the game, for obvious reasons.
You can be sure this showdown will be awesome. And you can be sure I'll be watching. You better be, too.