Posted by Ben Golliver.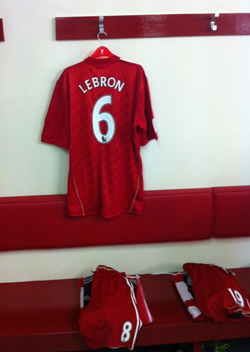 From football jersey to futbol jersey.
On Wednesday
, the NFL's Seattle Seahawks, desperate for attention, had head coach Pete Carroll deliver a customized jersey to Miami
Heat
forward
LeBron James
on Twitter. Within 48 hours, James had moved on to a much more popular team in a different sport.
On Friday, James
posted a photo on Twitter
of a customized red Liverpool Football Club jersey with his first name and his jersey No. 6 on the back.
Back in April
, James and his LRMR sports marketing firm acquired a minority stake in Liverpool FC by striking a deal with Fenway Sports Group, a company that owns both Liverpool and MLB's Boston Red Sox.
James tweeted that he toured Anfield, Liverpool's home stadium, before Saturday's match against Manchester United. The clubs are two of the Premier League's biggest powers and among soccer's most popular and venerable franchises.
"Ready for the big match tomorrow," James
said
. I can't wait!!! Amazing."
As of Friday, Manchester United sat tied for first in the Premier League's tables with a record of six wins, one draw and no losses. Liverpool was in fifth place with a record of four wins, one draw and two losses.