Posted by Royce Young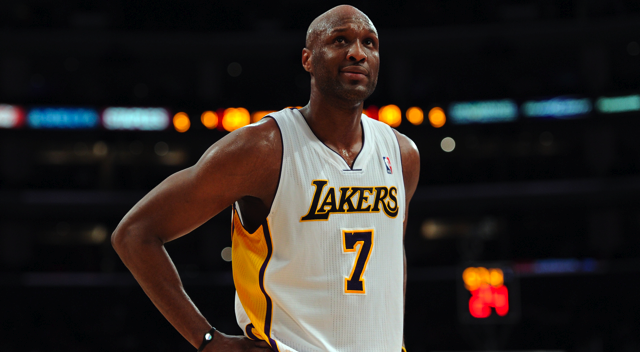 Tuesday morning, the
Lakers
called a press conference involving
Lamar Odom
and they weren't just announcing another reality show. Odom has been named this season's NBA Sixth Man of the Year.
Tuesday afternoon, the Lakers issued the following statement confirming the honor.
"Lamar could realistically start for any team in this league but his team-first attitude has allowed us to utilize him in a sixth man role," said Lakers General Manager Mitch Kupchak. "He could have won this award in any of the last several seasons and I'm happy that his unselfishness and talent have finally been recognized."
I wrote a few weeks ago
about Odom and to me, it was about a no-brainer pick as there is. Odom embodied everything a sixth man should be. He filled in starter time, played excellent minutes off the bench and provided the Lakers with one of the top weapons in the league.
You could make an argument for this being Odom's best season, especially in terms of efficiency. He averaged 14.4 points, 8.6 rebounds and 3.0 assists per game in 32.5 minutes a night. He also shot 53 percent from the field, a career-high. He finished with a 19.50 PER which is also the best he's had in his nine-year career.
He's always been sort of the X-factor for the Lakers because of his unique skillset. And he's always been very good for them in whatever role he's used. But his main issue has been consistency. This season, he's been reliable almost every single night. When that happens not only is he one of the most dynamic players in basketball, but the Lakers are maybe the toughest team to beat.
There were certainly other good candidates.
Jason Terry
,
Thaddeus Young
,
Glen Davis
,
Jamal Crawford
-- all good players. But Odom really feels like the one player out of this group that if you subtracted him, his team would be cost a substantial number of wins. I really think he's that valuable to what the Lakers do. Just the options he gives Phil Jackson late in games to match up or create mismatches with.
Really, the best argument there is right now as to why not to vote for Odom is because he started so many games. As long as he's within the rules, it doesn't matter to me and again, I kind of like that. Like I said, being the type of play that's able to fill in wherever is needed is what makes a great sixth man.
No Laker had ever previously won the Sixth Man award, which started in 1983. Odom finished sixth in voting in 2010, earning one of 120 first-place votes.