Carmelo and LeBron's loyalty, Greg Oden's return timeline, and Grant Hill is a tambourine man.
Posted by Matt Moore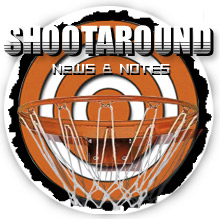 Troy Murphy
is thrilled to be playing
for the
Nets
. And he should enjoy this opportunity. For a full season. Because when his contract expires, he likely won't be able to enjoy the beautiful vistas of New Jersey unless it's on vacation.
No wonder everyone freaked out when
Anderson Varejao
was injured. The
video of the injury
was signficantly worse than the result. X-Rays and MRIs were negative, and he's day-to-day for Brazil. Odds are that won't make the Cavs feel totally fine with Varejao playing so much this summer.
Basketbawful points out
how a delightful quote from Carmelo that harkens back to another person that claimed loyalty to his team: LeBron.
You know the best way NOT to use PER as a useful statistic?
Compare those whose PER is similar
to a player to conclude that player should take more shots. The end result? Don't try and tell
Amir Johnson
to take more shots. That just won't work out well. I'm a numbers guy, and even I know I don't need a formula for that.
I'm not saying this is the last time you'll see
Daniel Orton
in a
Magic
uniform this year
. I am saying this very well might be the last time you'll see Daniel Orton in a Magic uniform this year.
My favorite listing of things Phoenix
Suns
did this summer
? Grant Hill played tambourine on his wife's album. Yeah.
There is
no time frame
, at least publicly, for Greg Oden's return. I'm sure this makes Blazers fans feel just fabulous. Oden's also off the radar and his trainer isn't talking. The only time you don't share that kind of information is if either the news is not good, or you're trying to take what is perceived to be too much pressure of an injury-prone guy that's struggling to get back.
An appeal to approve the application for Wilt Chamberlain to
have his own stamp
.
There is so much "UGH"
about this
.
Derrick Rose
likes Skittles so much they sent him his
own custom Skittles vending machine
. It has every type of Skittles ever made. According to sources, his mom is really worried he'll ruin his appetite before dinner.