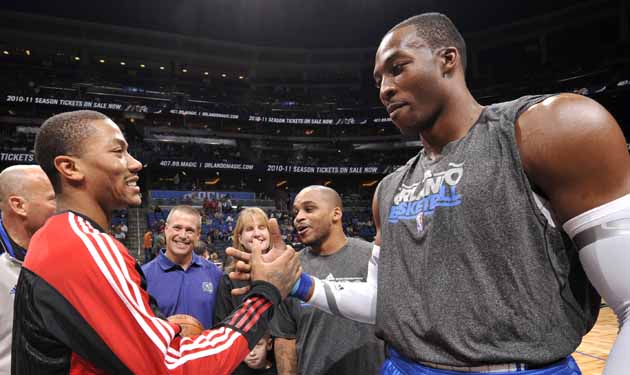 By Matt Moore
Back on Dec. 10th, the Chicago Tribune reported that
Dwight Howard
was not considering
the
Bulls
. Chicago has not been on the list of teams Ken Berger has reported since February under consideration by Howard and his management. And Tuesday,
ESPN reported
that Howard's list has been narrowed to four teams, the New Jersey
Nets
, the Dallas
Mavericks
, the L.A.
Lakers
, and the Orlando
Magic
.
So the question now is "Why won't Howard consider the Bulls?"
For starters, it would make a huge amount of sense for both parties in terms of basketball. For the Magic, they'd be able to get back a decent return on Howard, something that not many other teams will offer.
Joakim Noah
as a centerpiece, with
Omer Asik
,
Ronnie Brewer
, potentially
Luol Deng
, and a salary dump of
Hedo Turkoglu
along with picks could probably be had. That's a fine haul for the Magic. But maybe Howard simply doesn't care about what his team gets back and in fact wants to make sure they don't give up too much so that he can have a good group behind him wherever he lands.
The bigger upside is for Howard. He would no longer have to be the sole source of offense and would have the pressure to be "the man" split between he and Rose. Howard wants help? How about the MVP point guard who can create offense for himself as well as anyone in the league? He'd be set with a young player just starting his rise to greatness and already established. Rose isn't an alpha dog and wouldn't have problems with Howard, Rose has good enough vision even as a score-first guard to create oop after oop for Howard on the pick and roll. Throw in
Carlos Boozer
as now a much-better-fitting third option (unless they unloaded Boozer which they may have to for salary purposes), and some combination of the Chicago shooters and you have all the help Howard's been asking for.
Furthermore, how about the best defensive player in the league playing under the best defensive coach in the league? Tom Thibodeau could get the absolute most out of Howard's considerable abilities (not that Stan Van Gundy hasn't already done a stellar job and in fact in large part helped make Howard into the defensive presence he is), and would let him dictate what he wants on offense instead of forcing perimeter shots like SVG.
The only conclusion is that it's some combination of weather and style that Howard balks at in regards to Chicago. Howard is rumored to prefer warm-weather destinations, coming from the south and having played there for his career. Chicago isn't exactly balmy. Then again, not like Brooklyn is all palm trees and sun tan lotion. The bigger question may be from a marketing perspective. New York or L.A. provide him with media opportunities galore, and for a guy who loves the camera as much as Howard does, that might be the kicker.
One entity sad about this development? Adidas, who have both Howard and Rose under their label. The two teaming up under the colors of Nike's icon Michael Jordan's former team? Priceless. The money would be there for Howard in Chicago, but maybe not the level of fame he wants.