New Jersey Nets guard Sundiata Gaines has a fractured hip that will sideline him 6-8 weeks. Posted by Ben Golliver.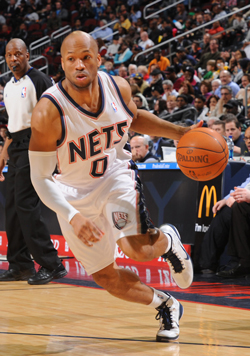 Well-traveled guard Sundiata Gaines,
forever a folk hero in Utah
, has had a tough season this year, bouncing around the league, serving short stints for the Minnesota
Timberwolves
and the Toronto
Raptors
before landing with the New Jersey Nets in March. Unfortunately, Gaines' rollercoaster ride just hit another dip.
NorthJersey.com reports
that the Nets have announced Gaines has suffered a "fractured right hip and will be on crutches 6-8 weeks and then will begin his rehab." Obviously, that makes the injury season-ending.
Gaines suffered his hip injury during a Wednesday game against the Cleveland
Cavaliers
. On the season, Gaines averaged 4.6 points and 1.8 assists in 12.5 minutes per game over 24 appearances.
If there's a sliver of good news to this story, it's that Gaines, who is 24 and has bounced around the D-League as well, just signed a multi-year contract with the Nets last Sunday, although it's not clear what portion, if any, of his future salary is guaranteed. Still, the worst case scenario for an NBA player would be for something like this to happen while signed to a 10-day contract. Gaines avoided that eventuality.
With
Deron Williams
locked in as New Jersey's starter next season, the Nets represent an ideal spot for Gaines should he be able to make a speedy recovery. He can continue to learn from one of the league's best and he won't be asked to do more than he's capable of.