Posted by
Ben Golliver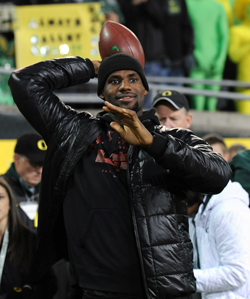 You can bet now bet on LeBron James versus the Super Bowl.
(Getty Images)
Thanks to Las Vegas, you can now place action on whether Miami
Heat
All-Star forward LeBron James comes up short on Super Bowl Sunday.
Just before the New England Patriots and New York Giants will be facing off in Indianapolis for Super Bowl XLVI, James and the Heat will be hosting the Toronto
Raptors
in Miami. And
SB Nation.com
notes that
oddsmaking site Bovado.com
has crafted wagers that pit James' performance versus the Raptors against the play of key Super Bowl participants, such as Giants quarterback Eli Manning and Patriots wide receiver Wes Welker.
Here are a few of the site's cross-sports prop bets.
What will be higher:
Eli Manning Completions +2½ (+105)
Lebron James Points -2½ (-135)

What will be higher:
Wes Welker Receptions Pick (-115)
Lebron James Assists Pick (-115)
Bettors can also wager whether Heat forward
Chris Bosh
will score a greater number of points compared to the receiving yards tallied by Giants running back Ahmad Bradshaw.
Manning is averaging 25.3 completions per game during the 2011 NBA playoffs after averaging 22.4 completions per game during the regular season. By comparison, James is averaging 29.2 points per game this season and 29.4 points per game in his last five games.
Welker, meanwhile, averaged 7.6 receptions per game during the regular season and 6 per game during the postseason. James is averaging 7.0 assists per game during the 2011-2012 season and 6.6 assists per games in the last five games.
James is playing the seventh most minutes in the NBA -- 37.5 per game -- and hasn't played less than 30 since New Year's Day. He's been one of the NBA's most consistent performers this season, so Toronto is the major X-factor for these bets on the NBA side. Expecting a big scoring or assist night from James assumes that his services will be needed for the entire game against the 8-16 Raptors, who are 4-11 in their last 15 games. The two teams haven't faced each other this season but the Raptors managed to score just 64 points in a Wednesday loss to the Boston
Celtics
.
Neither one of these bets is an obvious lock from an NBA perspective. James has scored 30+ 12 times already this season so that would probably give Manning fans some pause, given that he topped 30 completions just three times this year (including the NFC championship game). But is that worth giving the 2.5? James has also reached double figures in assists just three times this season, so if you're expecting a monster night from Welker, that one seems to jump out a bit more.
Of course, this is all for entertainment purposes only. Lose your money however you see fit. Or, don't, especially if it's not legal.