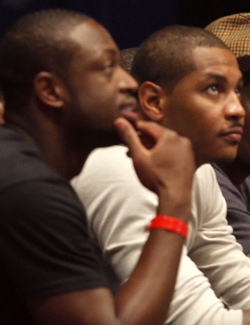 Posted by Royce Young
The starpower of last Thursday's
Heat
-Lakers game was good enough to bring in big ratings. And then a great basketball game broke out.
Thursday's
Lakers
-Heat game drew a 3.1 U.S. rating and 4.844 million viewers on TNT, marking the third-most viewed regular season NBA game on the network since the 1995-96 season,
according to Sports Media Watch.
Compared to last year's game, which aired in a later timeslot, this year's was up 327 percent in viewership (that was Chicago-Orlando which pulled in 1.135 million viewers).
But get this: TNT's four largest regular season audiences since the 1995-96 season have come during 2010-11 alone -- Heat-Celtics on Opening Night (7.348M), Heat-Cavaliers on December 2 (7.096M), Thursday's game (4.844M) and Lakers-Celtics on February 10 (4.714M). Those are some big numbers for the NBA. Prior to this season, the network's top game since 1995-96 was Lakers/Celtics in February 2009 (4.311M).
So far this season, TNT is averaging a 1.6 U.S. rating and 2.446 million viewers for NBA coverage, up 31 percent and 35 percent from last year (1.2, 1.814M). Viewership is up 30 percent from the 1995-96 season (1.885M), currently the most-viewed NBA season ever on Turner Sports.
If you're following along, basically the NBA is pretty much at one of its most popular states in the last 20 years. Which freaks me out to no other because this whole lockout thing scares me to death. To build up this much goodwill and make such incredible strides only to potentially set everything back another couple years.
There's no doubt the NBA has as much talent as its had in a good while. And
young
talent too.
Derrick Rose
,
Kevin Durant
,
Russell Westbrook
,
Dwight Howard
,
Blake Griffin
,
Kevin Love
and
John Wall
just add to Kobe, LeBron, Wade, Carmelo and everyone else. The NBA is kind of loaded right now. People say these super teams are bad, but here's one thing we know: The NBA is pretty much as interesting this season as its ever been. We're all watching, all invested. Which is a good thing.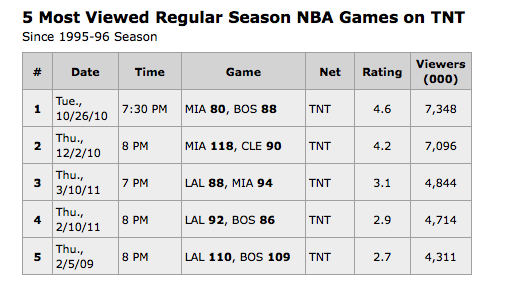 Chart via Sports Media Watch