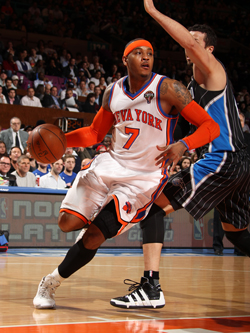 By Matt Moore
When
Carmelo Anthony
's Team Melo featuring friends
LeBron James
and
Chris Paul
defeated the Goodman League team
starring
Kevin Durant
, it should have been a pretty good day for Melo. Won the exhibition, did something good for his hometown, hung out with some friends, it was a win-win day. Until afterwards. From the
New York Post
:
Anthony's two cellphones were stolen by an unidentified attendee after the competition. "Fans bum-rushed the court to get close to the guys after the game," a source told Page Six. "Carmelo's phones were stolen during all of the chaos."
via
Carmelo Anthony's phones were stolen at a charity event in Baltimore - NYPOST.com
.
That's just bad all over. So if offensive tweets start showing up on Anthony's account, we'll know what happened, and he'll have actually been hacked this time. Jokes aside, there's a lot of sensitive information on those phones and we hope no one is harmed by the theft.
Unless of course, the thiefs want to call up Billy Hunter repeatedly and ask him why a grown man continues to go by "Billy." That would be okay, provided they turned themselves in immediately afterwards.
Here's another question. Have these guys seen Melo out before? For the uninitiated, each time I've seen Melo out in public, he's been accompanied by two of the largest men I've ever seen who acted as bodyguards. They were like houses with necks. And this is the guy you want to steal from? Perhaps you should reconsider that criminal mastermind career choice.
(HT:
PBT
)