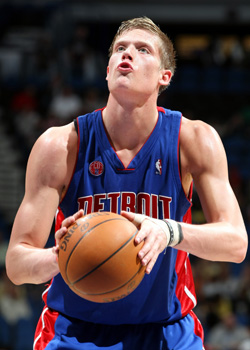 Pistons forward to miss up to five months with Achilles injury.
Posted by Matt Moore

Lost in the insignificant hamstring injury of
Dwyane Wade
was the fact that
Jonas Jerebko
went down in a nasty collision last night and immediately went to the locker room. The initial diagnosis was an achilles strain. Turns out that was pre-tests, because today Pistons radio is reporting
Jerebko tore his Achilles tendon
, and will miss
at least three months
, with
some estimates as great as five months
.
This would be the same Pistons team that was hoping to shake off the injury woes of last year. They also lost
Terrico White
to a broken foot
. The big issue here is that the Pistons were looking to possibly move
Tayshaun Prince
who Jerebko has backed up at small forward, and aren't exactly deep in the frontcourt, with
Greg Monroe
and
Ben Wallace
their only real options outside of
Jason Maxiell
at this point. Beyond that, Jerebko made a name for himself as last year as an extremely solid young player with good effort, instincts, and energy. Losing him is going to be a significant blow to the team, just hours after it was announced they'd been sold.
Guess the luck carries over in the paperwork.