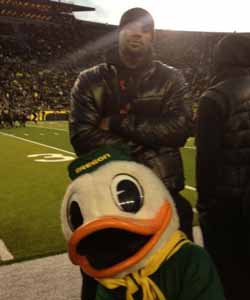 By Matt Moore
For those of you uninitiated, we've been having a little fun with the idea that
LeBron James
is cursed, for whatever reason ("The Decision," karma, his various public-comments-related disasters, the voodoo doll, etc.). It's not serious, though that hasn't stopped people from losing it over the suggestion it might be. To review:
He predicts the Heat will win multiple championships, then he "shrinks" in the Finals
He extends a pre-existing sponsorship deal with Ohio State, then they undergo their biggest scandal in school history, resulting in the departure of Jim Tressel.
That same agreement also brought in the University of Miami to the Lebron James Brand. Then there were the the allegations involving prostitutes and rampant violations and the downfall of the program.
He became a partner with the same group that owns the Red Sox in buying the European football club Liverpool FC, and the Red Sox suffer one of the worst collapses in major league baseball history, as not only do they lose to the Orioles, but have the Rays come from behind to beat the Yankees, eliminating them from postseason play, which is followed by a Boston media report outlining all the ways the entire organization has fallen apart. Did we mention the general manager and manager of the two-time championship core also left the team over the debacle?
On Saturday night, LeBron James was in Oregon visiting the Nike campus, and decided to make an appearance on the Oregon sideline.
This picture was grabbed by @WhitneyKBlaine on Twitter
, showing LeBron with the Ducks mascot. The Ducks were in a position to move into the national title game after all the teams in their way outside of Alabama which already lost to LSU and Arkansas, who plays LSU next week. It took a remarkable set of failures to put them in position, but a win put them back in the driver's seat for a national title game appearance.
38-35 USC
. That's the sound of a duck with a championship belt going down the toilet.
And to make matters worse:
We've tried to make it clear in previous posts on this subject we're just messing around. Maybe. Kind of. But seriously. The man appears and teams suffer inglorious fates and massive failures. He's the harbinger of FAIL. The Black Angel of LULZ.
This is all in jest but man, it has not helped for teams to be associated with the two-time MVP.