Posted by Ben Golliver.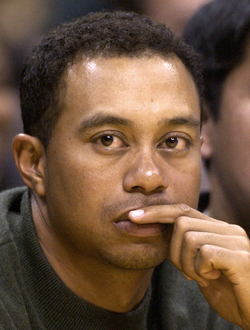 His marriage is wrecked and his golf game is in shambles, but that isn't what has Tiger Woods feeling down in the dumps these days. Nope, Woods is singing the blues because of the ongoing NBA lockout.
CSNNE.com reports
that Woods took some time out this week to express his frustration with the fact that the NBA has cancelled the first two weeks of its regular season, with no end to the labor bickering in sight.
"Yeah, of course I'm bummed," he said. "I think anybody who is an NBA fan is certainly bummed. I know that probably one person who is happy is probably Doc Rivers. I mean, with the age of his team, it's nice for them to only play half-a-season. It's true. It's a fact, come on."

"I'm looking forward to the Lakers getting back there and we'll see what they do," he continued. "The problem is, you can't talk to anybody. You can't see who is potentially on the block of being traded, what kind of deals can we do? Nothing can be happening.

"So as a fan, it's disconcerting because I'm excited about what we could add to the team, but it's also I understand this is business, and everyone in this business wants to make money. I know the owners were losing a bunch of money, and some of the markets were feeling the effects. They can't draw certain players, so they're just trying to make it fair for everybody so everybody can win."
Woods' basketball buddies were worried about him even before he admitted to being down and out because of the lack of hoops.
Back in July
, Charlotte
Bobcats
owner Michael Jordan said that Woods "needs to get healthy, mentally and physically" and Hall of Famer Charles Barkley
said in August
that he is "very concerned" about Woods because he surrounds himself with the wrong type of people.
Whatever you do, don't let Woods know that
Derek Fisher
and
Steve Blake
will still be running point for the Lakers whenever this lockoug gets resolved. We don't want him to have an emotional crisis.
Woods isn't even the most recognizable person to complain about the NBA lockout this week.
On Tuesday
, United States President Barack Obama said he was 'heartbroken' because of the lockout. As with Obama, I'm sure you can't wait to write in the comments how these comments make Woods an unbelievably sympathetic figure and that you can't help but feel sorry for him.
Hat tip: IAmAGM.com