Posted by
Ben Golliver.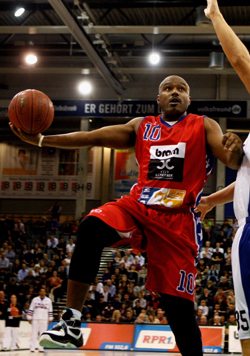 Who could forget when former Miami
Heat
point guard Tim Hardaway went on a vicious rant against homosexuals back in 2007?
"I hate gay people, I let it be known," Hardaway
said at the time
. "I don't like gay people. I don't like to be around gay people. I'm homophobic. I don't like it. There shouldn't be a world for that or (a place) in the United States for it. I don't like it."
So much can change in a short period of time.
The
El Paso Times
-- via
Yahoo!'s Ball Don't Lie
-- reports that Hardaway is back in Texas, where he famously played his college basketball at UTEP, and publicly supporting politicians who are catching heat for supporting Gay Rights.
In town for a golf outing, Hardaway attended a press conference urging citizens to oppose recall efforts against Mayor John Cook and city Reps. Susie Byrd and Steve Ortega. The three are being recalled by a group of religious conservatives who are angry the three voted to restore health benefits for gay and unmarried partners of city employees -- despite a ballot initiative in November that had abolished them.

In asking citizens to oppose the recall, Hardaway said he was asking them not to do what he did. "I opened my eyes and went to counseling," he said Thursday.

But supporters say they are motivated by frustration that Cook, Byrd and Ortega disregarded the outcome of the November initiative. They also say they harbor no hatred toward gays -- but that they think it's wrong to use tax dollar to support what they believe is an immoral lifestyle.

"I would say grow up and catch up with the times," [Hardaway] said. "It's all around the world."
Regardless of what you think about the political issue at hand, give Hardaway credit for this: apologizing when everyone is demanding an apology is relatively easy. Committing to understanding why and how you erred, working to resolve that error as best you can and then taking a new public stance is far, far more difficult.
Apologies have lost so much of their meaning in our society today and true remorse is difficult to judge because we as a society and a media move on to the next controversy and forget about the last one. "I'm sorry" simply means a lot less than "I was wrong and I'm doing whatever I can to make it right." Kudos to Hardaway for working to make up for his truly regrettable comments and for understanding that "I'm sorry" wasn't enough.
This change of heart doesn't make Hardaway a hero by any means. But it does take him out of the class of celebrities or public figures whose words and admissions of wrongdoing get brushed off as scripted and totally meaningless.