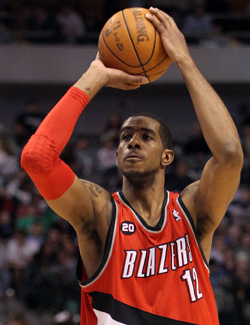 Blazers forward suffering with hip issue, will have X-Rays.
Posted by Matt Moore
Update (Tuesday 6:52 PM)
:
Aldridge's X-rays and an ensuing MRI both came back negative. The Blazers announced on Tuesday that Aldridge does have a hip contusion and listed him as probable for Portland's game against the Boston
Celtics
on Thursday.
-------------------------
Original Post
:
I wish this was a joke. I do. But another Blazer has an injury concern. General Manager Rich Cho
told reporters
after the Blazers loss to the
Kings
Monday night that
LaMarcus Aldridge
, on the cusp of an All-Star berth, will have X-Rays on his right hip. Results are expected Tuesday morning, and of course, we'll keep you updated.
Aldridge had surgery on his left hip in college to repair a torn ligament. Which in Blazer terms, is like the black mark of death when a new injury erupts. The Blazers are currently without
Brandon Roy
,
Elliot Williams
,
Greg Oden
, Jeff Pendergraph (released after surgery), and
Marcus Camby
with various knee surgeries. So the good news is that Aldridge's knee is miraculously not the issue. The bad news is that no Blazer injury winds up well lately. There are no "out a few days" things. It's always terrible news. Maybe this is the one differential, as Aldridge has been fairly iron-man-esque so far. But if I'm a Blazer fan, I've been conditioned to nothing but the abject worst-case scenario in all instances. Heck, at this point, if I'm Rich Cho, I'm already planning on Aldridge being out eight weeks, just out of habit.
But those are just bad jokes. Aldridge himself said it was "nothing" post game, and it's likely the X-Ray won't reveal anything too serious. Right? One time?
(HT:
The Oregonian
)