Washington Wizards rookie forward Trevor Booker will "likely" miss the rest of the season with a cracked foot. Posted by Ben Golliver.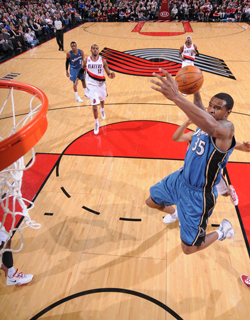 This time of year, teams like the Washington Wizards have nothing to play for except the future. Unfortunately, one somewhat promising member of that future is about to get shut down.
The Washington Post reports
that Washington Wizards coach Flip Saunders said that rookie forward Trevor Booker "is likely done for the season after MRI revealed a crack below his right foot."
Saunders said Booker will seek another opinion on the foot that he injured in the fourth quarter of the Wizards' 114-94 loss on Friday in Denver. An initial X-ray in Denver didn't show any fractures, but Booker missed the past two games and complained of continued soreness in his foot. The Wizards (18-55) have nine games remaining.
"He might have a little crack on the bottom of his foot," Saunders said. "He might have a CAT scan today, so we'll know more probably tonight. But it looks like he might be done for the year."
On a roster stocked with players that probably shouldn't be in the NBA --
Mustafa Shakur
,
Hamady Ndiaye
, etc. -- Booker made a good name for himself this season. While Wizards fans continually called for the rookie out of Clemson to get more playing time, he finished the season averaging 5.3 points and 3.9 rebounders in 16.4 minutes per game, shooting 54.9% from the field.
BulletsForever.com points out
that his advanced stats look even better.
As Washington's season got more hopeless and injuries stacked up, Booker moved into a starting role in March, posting a career-high 26 points in a loss to the Toronto
Raptors
on March 18.
The Wizards are in search of building blocks to surround franchise point guard
John Wall
with. While the team's roster could continue to see a lot of roster shuffling this summer, Booker seems like a surefire keeper.