Heat Triad superstar opens up "Hater Day" on Twitter, laughing at opponents. We all want to know where the anger is, despite never having evidence it's there at all. Posted by Matt Moore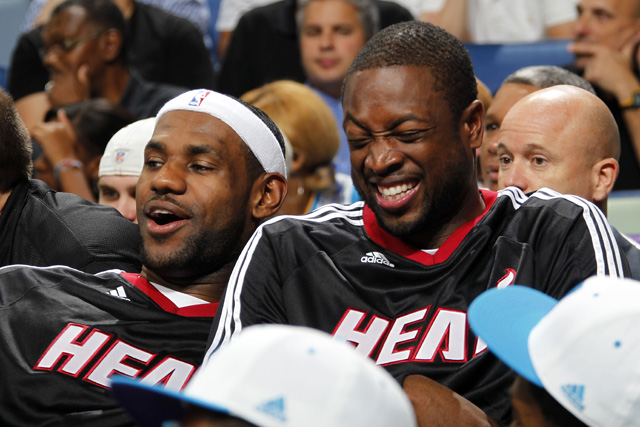 No, seriously,
LeBron James
is not bothered by your hatred of him. Today on Twitter, James (
@KingJames
) took to his plethora of haters,
declaring today "Hater Day."
He ain't mad at you, though, haters: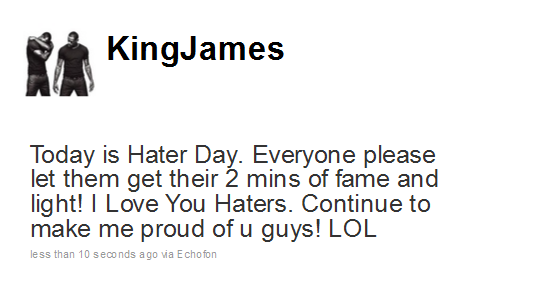 This is what's called, playing to the crowd. In the overused-to-a-sickening-degree professional wrestling analogy, this is saying something derogatory about the city you're currently performing in. It's a definite thumb-bite to the plebian crowds throwing tomatoes. And it's also telling.
There's this narrative trying to be built for James where he finally gets angry at everyone hating on him, all the doubters, all the critics, and responds with anger on the floor leading to a dominant stretch. James has bought into this whole thing, talking about "making a list" and being focused on proving people wrong. But this latest gag on Twitter seems more indicative of James' personality. That is, he just doesn't take much seriously. He doesn't have to.
He's a 25 year-old player making $14.5 million dollars this season,
$109.8 million total during this contract
. He has two sons, now plays in South Beach, parties with Jay-Z, gets financial advice from Warren Buffet,
runs clubs like he owns them in Vegas
, His life may not be perfect. But it's pretty close. And besides that, James simply isn't disturbed by these things. There's been no evidence of him getting angry with players or personnel. He may sulk, he may disapprove, but anger? It has never been part of the persona he's let us see. If he's capable of genuine anger at any above-normal level, it's never been exhibited. (This in comparison with
Kobe Bryant
and
Kevin Garnett
who are essentially two red tea kettles blowing steam on the court constantly.)
Instead James has always reflected a happy go-lucky playful nature. He dances with teammates. He raps on-court (and in the locker room, loudly). He chuckles in interviews and smiles for the camera. This man is not a brooder. Even after a Finals loss and subsequent ejections in the playoffs, including the Conference Finals, James has never lashed out, never kicked an object out of anger, even. Think about that.
Dirk Nowitzki
has him beat in the "public display of frustration" angle. When the Cavs were ousted by Boston, James hugged KG then took off his jersey for the last time as a Cavalier. This is not a man fueled by rage and hatred, but by one looking to expand his empire and brand.
What's odd is that this is a criticism. If you or I acted like we want start to in our workplaces? We'd get sent home or to anger management classes. We'd question how seriously we take things and try and gain some perspective on what's important in life. But for athletes, we demand more. We demand a thirst for blood, for vengeance. And James has not fulfilled that, not in his play, and not with his actions. We want our player to seethe at the nasty things said to them on Twitter, or ignore them as being above it. Not to indulge in playful banter with them. James is not who we want him to be, and that's really been and continues to be his biggest crime.
Laughing off his haters while he retweets their misdirected, misguided, over-the-top anger towards a man they don't know at all? That's par for the course, and part of the reason his trip to Cleveland on December 2nd is far more dangerous than the media, league, or Heat understand. There's only one thing that makes a brokenhearted, jersey-burning crowd even more angry. When the "traitor" laughs in their face. And that's what will happen. It's just how James is.
Somehow I think "Hater Day" is going to wind up being "Hater Year."
Follow CBSSports NBA on Twitter at @CBSSportsNBA
and
subscribe to our RSS feed
.