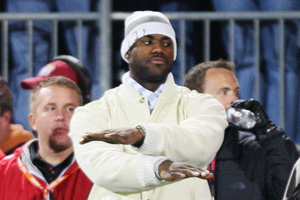 By Matt Moore
Back in July,
LeBron James
' Nike brand
announced a pretty sweet deal
. He'd be expanding on his relationship with Ohio State to include Kentucky and Miami. That's a pretty great deal for James' brand to be sponsoring the official gear for three major universities, right? I mean what could possibly go wro...
Oh.
James
has been sponsoring the Buckeyes since 2007
. He makes "The Decision," and in the following year the program goes through its worst NCAA violations scandal
and their legendary head coach resigns
.
Well that's not so bad, and it's not like the other two universities have gone through any...
oh
.
James moves to the
Heat
and the following year the University of Miami suffers arguably
the worst reveal of recruiting violations
in the history of college sports. Yachts, strippers, prostitutes, it's all there. That's two down.
Kentucky, unbelievably, is the clean one here. Whether it's fair or not, if you'd put odds out two years ago on which of those three schools an average person would bet would have recruiting violations, Kentucky would probably have been the best bet.
So what can we take from James having sponsored two out of three programs with recruiting violations and massive scandals on their hands? The clear answer is that James is cursed.
Yes, there's really no way around it. Clearly "The Decision" has cursed LeBron James. After all, his team only made it to the Finals, and lost, and he was a big part of it by "shrinking" from the moment. He's reviled as one of the least popular athletes in the world, and everything he does is broken down and mocked. On top of it, James' curse seems to extend to those he has business deals with. Ohio State, University of Miami, they may just be the tip of the iceberg. What if it was James' affiliation with his endorsement deals that impacted the companies he's in business with, and that caused the stock market fall? What if LeBron James is destroying the very fabric of the universe? We have to save ourselves!
So has LeBron James cursed the U and The Ohio State University?
No. Come on. Don't be stupid.
In reality, those programs made sense for James from an economic and brand perspective. He has ties to Kentucky through Calipari and William Wesley. He's from Ohio, even if Cleveland is of course not a fan. And he lives in Miami. It's just a coincidence that this happened and has no connection to the sponsorship deal.
We think.
Dunh-dunh-dunh!