Posted by Ben Golliver.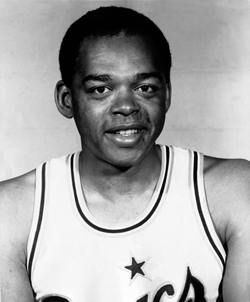 Former NBA All-Star and UCLA standout Walt Hazzard died in Los Angeles on Friday night at the age of 69,
KTLA.com reports
. Hazzard had been battling a "long illness."
"This is a sad day for the UCLA basketball family," said Bruin athletic director Dan Guerrero said in a press release from UCLA.

"Walt was the catalyst for Coach John Wooden's first championship team and played the game with a style that excited Bruin basketball fans everywhere. He contributed to his alma mater in numerous ways, including as a student-athlete, coach and honored alum, and he will be greatly missed by all of us know knew him. Our thoughts and prayers are with his wife, Jaleesa, and their four sons."

"Walt was one of the pillars of UCLA's first championship team in men's basketball," said UCLA head men's basketball coach Ben Howland.
Hazzard, a 6-foot-2, 185-pound guard, played 10 years in the NBA, featuring stops with the Los Angeles
Lakers
, Seattle SuperSonics, Atlanta
Hawks
, Buffalo Braves and the Golden State
Warriors
. He posted career averages of 12.6 points, 3.0 rebounds and 4.9 assists and was selected to the 1968 All-Star Game when he posted a career-high 24.0 points for Seattle.
On Friday evening, the Lakers, who drafted him in the first round of the 1964 NBA Draft, issued a statement.
"Walt was a man of extremely high character, who served the Lakers for many years as a player, a scout and a consultant," said Lakers Owner Dr. Jerry Buss. "Our sympathy, thoughts and prayers are with his family at this time, and we feel fortunate that he was part of the Lakers family for so many years."

"First and foremost, our condolences go out to the Hazzard family," said Lakers General Manager Mitch Kupchak. "Not only was Walt an outstanding player, but his knowledge of the game was extremely valuable to our front office as well over the past 17 years. In the years since his stroke, he has been an inspiration to many of us with his perseverance and his passion for the game."
A college All-American and the Most Outstanding Player of the 1964 NCAA Final Four, Hazzard is best known for playing on the undefeated UCLA team coached by John Wooden that won the school's first NCAA title. UCLA retired his No. 42 jersey. He later won a gold medal as a player at the 1964 Olympics.
After his retirement from the NBA, Hazzard coached at UCLA from 1984-1988, compiling a 77-47 career record, and worked as both a scout and a consultant for the Lakers.
In 1996, Hazzard
suffered a debilitating stroke
that reportedly nearly took his life.