The Orlando Magic came out strong, John Wall debuts, Utah looks lost, Gordon Hayward cut his amazing hair and Hakim Warrick puts two Jazz on a poster.
Posted by Ben Golliver.
Each game is made up of elements which help formulate the outcome. Monday through Friday, we'll bring you the elements from the night before's games in our own specialized version of the game recaps. It's not everything that happened, but it's an insight into what lead to the results you'll see in the box scores. This is the Game Changer.
THE BIG ONE: ORLANDO THROTTLES WASHINGTON
Somebody forgot to tell the Orlando Magic that they weren't playing the Atlanta
Hawks
.
The Magic brought the same brand of soul-crushing domination they used to sweep Atlanta out of the playoffs last year to their Thursday night season-opener against the Washington
Wizards
, and the game got ugly quickly.
The Magic nearly doubled up the Wizards in the first quarter (29-15) and suckered Washington into settling for contested jumper after contested jumper, cruising to a
128-83 win
in the new Amway Center. It was too easy, and
Dwight Howard
posted 23 points and 10 rebounds while barely breaking a sweat, watching his team's second unit finish off the win during the fourth quarter.
Orlando's strategy never got much more complicated than, "We'll make shots while you miss shots." Orlando finished 43-77 from the field compared to 29-78 for Washington. Wizards rookie point guard John Wall was a major culprit, as he shot just 6-19 in his NBA debut, clanking tons of pull-up jumpers from the 15-18 foot range.
But you can't pin this all on Wall: most of his teammates didn't bother showing up to help ease his transition to the professional game. The Wizards were out-rebounded 53-25 and they had no answers defensively as Orlando moved the ball well and attacked from all sides.
(For a full recap of Wall's first game as a professional
right here
. It wasn't all bad, by any means.)
This felt like a statement game for Orlando. But that statement wasn't "Welcome to the NBA, John Wall." It was more like, "Take notice: We still plan on holding down the Southeast Division." After an undefeated preseason and a pretty season-opener, the Magic look more than ready to prove that point against the new-look Miami
Heat
on Friday night.
GO-GO-GADGET LINE OF THE NIGHT:
Dwight Howard:
23 points, 10 rebounds, 1 assist, 1 steal, 3 blocks, 7-9 shooting, +24 (plus/minus).
Plus, just one foul in 30 minutes of action. Dominating.
Honorable mention goes to...


Hakim Warrick:
18 points, 11 rebounds, 1 assist, 1 steal, 6-11 shooting.
and...
Paul Millsap
: 19 points, 13 boards, 1 assist, 1 setal, 2 blocks, 9-13 shooting.
DON'T MISS:
Ken Berger reports
that Oklahoma City's
Jeff Green
and Detroit's
Rodney Stuckey
will not be receiving contract extensions. Meanwhile, it appears free agent center
Erick Dampier
has made up his mind: he's
taking what little talent he has
to Houston.
PANIC TIME QUESTION MARK:
By Royce Young
With about five minutes left in the game,
Deron Williams
pulled up, looked right at rookie Gordon Hayward and screamed, "Go through!" Williams was visibly frustrated and ended up firing a one-armed strike right at Hayward to really emphasize that frustration. At the next timeout, Williams continued to pound on the rookie, demonstrably gesturing what he wanted from Hayward.
But that wasn't even the worst of it for the Jazz. With a score of 110-94 in the
Suns
favor at the buzzer, what was left of the Jazz's home crowd booed the team. Can you believe that? Booing, in game two.
I guess those things tend to happen when your team starts 0-2 with both games being fairly non-competitive. Especially when there were high expectations coming in to the season.
Most didn't see the Jazz coming up empty in the opening week of the season and with a made over roster, it's easy to point at the new pieces not gelling. An 0-2 start wasn't expected, especially after an 8-0 preseason, but it's early. Oh it's so early. Don't press any kind of panic button if you're a Jazz enthusiast. In fact, don't even mention anything of the like. Jerry Sloan will have this straightened out soon enough.
Last season, Utah started out the season 1-3 before closing November winning six of seven en route to 53 wins and the fifth seed in the West. It took a little time to put it together, but it was all where it needed to be eventually.
And this season, Utah is retooling after losing
Carlos Boozer
,
Wesley Matthews
and
Kyle Korver
. The replacements are solid in
Al Jefferson
,
Raja Bell
and Hayward. But it'll take a little time for everything to be put together.
The average defeat for Utah in the first two is 19. The Jazz have given up 110 points in both games. But take into consideration that Utah has faced two quality, up-tempo teams to start the season. Not exactly ideal opponents when you're trying to work out the kinks of a new offense and defense with a number of new players.
Jazz fans aren't used to watching their guys lose at home. Especially not by double-digits. The Jazz offense was out of sync at times, playing a more one-on-one than you typically see in Sloan's flex offense. The ball didn't move well, the Jazz didn't shoot well and defensively, there were breakdowns often.
But it will get sorted out. It might take some bruises and a few more boos from the home crowd, but the October version of Utah won't at all be the same as the March version. I'm pretty sure you can count on that.
WHIMSY:
Utah Jazz rookie Gordon Hayward showed off a new buzz cut during Thursday's loss to the Phoenix Suns. That news was seriously lamentable, given the amazing helmet Hayward had been rocking. Take a look at the air flowing through his mullet wig.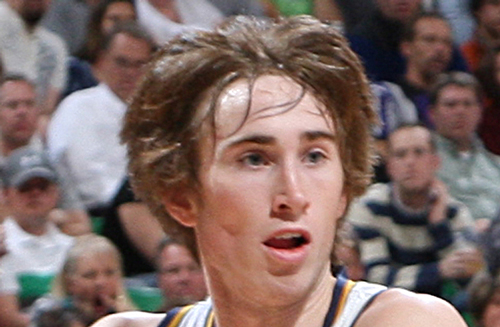 Upon further inspection of this photo, Hayward appears to have planted Chia Pet seeds on Steve Nash's hair and then transplanted the result onto his own head with super glue.
VIDEO CLIP MANIA:

Phoenix Suns forward Hakim Warrick puts both Raja Bell and Paul Millsap of the Utah Jazz on a poster. Video courtesy of NBARauf on YouTube .
ONE FINAL THOUGHT:
Poor
Mickael Pietrus
is buried on the Orlando Magic bench. Deep. Pietrus,
noted Ben Q. Rock
, didn't check into the game for Orlando until the fourth quarter, when the Magic were already up 30+.


Follow F&R on Twitter at @CBSSportsNBA and check out our RSS feed . This has been your daily edition of the Game Changer.