The Golden State Warriors are reportedly looking to "add to the talent pool" and are possibly eying multiple trade targets. Posted by Ben Golliver.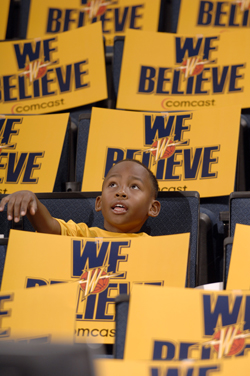 Things could be a lot worse for the Golden State Warriors, who lost Ekpe Udoh, their 2010 lottery pick, for the first few months of the season and have dealt with persistent ankle trouble for starting point guard
Stephen Curry
. Nevertheless, the Warriors are 15-21, hanging out on the fringes of the Western Conference playoff discussion. They're at the metaphorical crossroads: a strong push before the All-Star break could make for a fun stretch ride battling teams like Portland, Phoenix, Memphis and Houston for the final playoff spot. No push, however, and the Warriors are right back where they've been for the last three years: in the draft lottery.
So it shouldn't come as a surprise that murmurs out of the Bay have the Warriors looking to improve their roster. The
San Francisco Chronicle reports
that the Warriors could be buyers during the run-up to this year's trade deadline.
The goal, whether at the trade deadline or in the offseason, is to acquire a "good player who adds to the talent pool," Riley said.
The Warriors are interested in Tayshaun Prince and have been intrigued by Zach Randolph, two guys who might fit that description and could be available. Some league sources still believe Andre Iguodala - one of Curry's favorites - could be made available, but many have soured on that scuttlebutt.
The Warriors are armed with two large expiring contracts --
Dan Gadzuric
's worth $7.2 million and
Vladimir Radmanovic
's worth $6.8 million -- so they have some cards to play.
Detroit
Pistons
forward Tayshaun Prince is an intriguing possibility in Golden State, as his versatile two-way game and championship pedigree would bring two elements the Warriors are sorely lacking. However, Prince is himself an expiring contract, so it's unclear what Golden State could offer Detroit to pry him loose. He's also said to be anxious to play for a winner, given that he's in the twilight of his career, and the Warriors might not yet fit that bill. Renting Prince for the balance of the season and letting him walk during the summer could be a possibility, however it doesn't seem ideal for the Warriors as they are in the middle of a promising rebuild. This would amount to a sideways move and would cost them trade chips.
As for Memphis
Grizzlies
forward Zach Randolph, he's in mercenary mode, as his current contract runs up at the end of this season and he's looking for a final mega-payday. The Warriors must ask themselves: how well does Randolph fit with our core pieces? Randolph is an excellent scorer and rebounder, but he likes his shots and touches, and Curry, guard
Monta Ellis
and forward
David Lee
all need the rock already. Randolph is also strictly a power forward, so playing him alongside Lee would require the Warriors to continue to play smallball. The Warriors are accustomed to playing that way, but it is not necessarily ideal if they're looking to commit long-term dollars to acquire another big man. Put in simpler terms, Randolph and Lee together would be a bit redundant and would wind up being quite expensive. Renting Randolph for the balance of the season could also cause more problems that it would be worth, as he would require a total re-jiggering of the front court rotation, compromising the playing time of long-term core pieces and bringing an uncertain short-term return.
If the Warriors are simply looking to expand their talent pool, they might be better served playing this Moneyball-style, cashing in their expiring contracts and/or draft picks to improve their depth and the quality of their reserves.