Posted by Ben Golliver.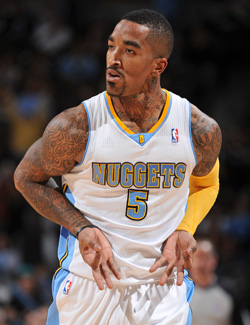 The Far East is starting to look more and more basketball's version of the Wild, Wild West.
As we've noted recently, Denver
Nuggets
free agent guard
J.R. Smith
suffered an apparent knee injury
while playing for the Zhejiang Chouzhou Golden
Bulls
of the Chinese Basketball Association over the weekend. Smith underwent medical testing, including an MRI, which
came back negative
, but he
exchanged some words publicly
because Smith wanted to undergo his own testing independent of the team's doctors.
That spat has grown into a full-fledged public beef.
Niubball.com reports
that Zhao Bing, Zhejiang's general manager, used China's version of Twitter to call out Smith for leaving the team to pursue medical treatment and then later called a press conference to suggest that he was exaggerating the severity of the injury in the first place.
"We already know the results of J.R. Smith's medical examination," Zhao said to reporters earlier today. "He's coming back this afternoon to Yiwu to meet with the team. Tonight we will call the owner, head coach and high level people from the front office for a face-to-face meeting with Smith to discuss the situation. Afterwards, we will come up with a punishment for his unauthorized departure."

"We don't have a problem with him worrying about his health, but he should obey the arrangements the club made for him. We set up an medical exam for him, but he refused the one we provided for him. I have no idea why. It's not like the team doesn't have proper medical equipment, you can get an MRI on your knee anywhere. For an injured player, we will certainly make sure the player is properly cared for. But, Smith didn't obey the club's arrangements."

Zhao even went to far as to suggest that Smith was faking his injury in a possible attempt to go home.

"Everyone saw the pain on Smith's face after he got hurt. Compare that to the results of his exam. We're all intelligent people, we should all know what's going on here. When you compare his performance on the court with the game's final result, you'll realize. When he was injured, would he have had that big of a reaction [if the score was closer]?"
That's a brutal crossing of the line that you would not often see in the NBA, where private health information is legally protected and discretion is a way of life. Occasionally, you'll hear a player bag on his teammate for being out of shape or slow to recover. Rarely, you'll hear a coach imply that a player didn't show up to camp in condition or that he fails to bring sufficient energy on a regular basis.
But a GM calling a press conference to accuse his star player of faking an injury and to wonder aloud why he might seek independent medical testing, something that is not uncommon in the NBA, especially when it comes to knee injuries. That's unheard of. An NBA player's body is his livelihood and no culture gap or language barrier should get in the way of that.
Smith's coach is later quoted by Niubball.com saying that Smith has regularly skipped practices, which would be an obvious underlying motivation for the team's frustration. It's more than reasonable for the club to expect Smith to show up on time and to use its medical services for routine issues. But to call him out so egregiously on a sensitive issue serves no purpose except to further anger an already volatile personality. Those are kerosene on the fire type words that almost guarantee this Mr. Smith Goes To China experiment will explode.
Hat tip: ProBasketballTalk