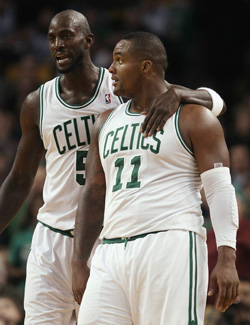 Posted by Matt Moore
Glen Davis
started while Garnett was out with his calf. And, well, er... it didn't go well, even with a 6-3 record. He was good, but he wasn't the force he's been off the bench. He shot 21-66 from mid-range and wasn't as good a rebounder as he usually is off the bench. WEEI in Boston asked him about the pressure of being a starter and Davis admitted it got in his head a bit.
"It's all mental," he said. "I was kind too hard on myself when I was starting. I wanted to prove to Doc [Rivers] and prove to my teammates … The difference between that and the playoffs is I just went and played. That's what I do when I come off the bench, I just go out and play. I put a lot of pressure on myself. I got out of myself and tried to be something [else]. That's now how it works. You have to be yourself. I had a couple of good games, but as far as all-around games, the way I know I can play, I didn't bring it. Now being on the bench you get back to the same mentality."
via
Green Street » Glen Davis acknowledges starting affected him mentally
.
Davis, who was Ken Berger's pick for Sixth Man of the Year, is averaging 14, 4, and 2 as a starter, but shooting just 41%. As a reserve, he averages 12.2 points, but rebounds better at 5.7 per game in fewer minutes. He also shoots 48% off the pine, a considerable improvement. He even shoots better at the line as a reserve, proving that the mental aspect has an impact here. Davis is not a great player. He can be great, in certain games, particularly big ones, though. That's the paradox that Davis exists as. He seems constantly on the verge of collapse, or tripping over his own feet. He drools. No,
for real, he drools
. But he also has a masterful reverse layup that, while seemingly averse to the laws of physics and our determination of form in any degree, also goes in a high percentage of the time. His jumper can be an absolute clunker in some games and the definitive reason for a
Celtics
' victory in others. And no one takes charges as well as he does at this point. He's a worthy championship player. But he has to come off the bench.
(HT:
Reds Army
)