Derrick Rose has been an MVP candidate this season, and has been credited with a great jump in his perimeter shooting. But after a hot start, how much has he cooled off?
Posted by Matt Moore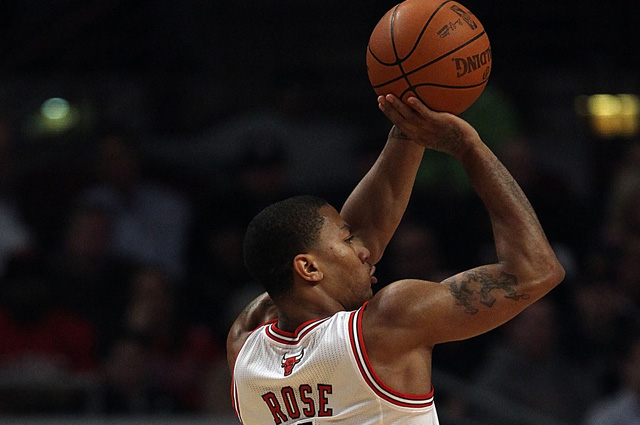 Derrick Rose has been brilliant this season. We could, and will, take pages to talk about the ways he's grown to improve his game this season, to take the
Bulls
to the next level and have them legitimately talking about the Finals. He is not only a MVP candidate, but a MIP candidate, for the ways he's jumped in nearly every aspect of the game. Every NBA fan is waiting with baited breath to see what he shows us in the playoffs this spring, with a loaded team backed by a brilliant defensive tactician... and
Brian Scalabrine
. But there's an underlying trend developing in an area that has been one of the most-vaunted new strengths of Rose:
his 3-point shooting
.
Rose worked extensively with Rob McClanaghan on his shooting over the summer. He's referenced it several times as people have lauded his perimeter shooting. While his mid-range game has stayed at a subpar level, his 3-point shooting exploded early on in the season. He shot 34 percent in November, then 44 percent in December, the best month of his career. His ability to stretch the defense forced them to respect it, drawing them out to the perimeter, which gave him more space on the drive, opening up attacks at the rim and the drive and kick. It continues to be something referenced by analysts when they talk about Rose's improved game. But a funny thing's happened since the lofty shooting by Rose in the first two months of the season. He's shooting just 29% since January 1st, still an increase over his 2010 mark of 26%, but not good enough to justify gameplanning against it.
Here's a look at Rose's progression by month this season in terms of makes, attempts, and percentage from the arc.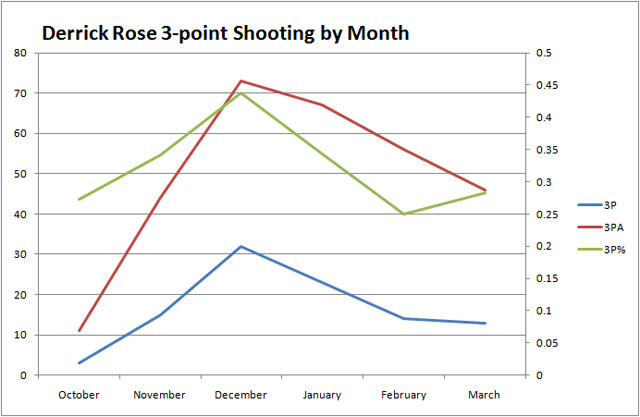 Basically after that huge month of December, Rose dropped back to a reasonably improved 3-point shooter (34 percent in January), then reverted fully back to a sub-30-percent perimeter shooter. But because his November and December run was so huge, his percentage held (he's still at 34 percent for the season entering Tuesday night). So in reality, Rose hasn't actually been an improved 3-point shooter for most of the season, but the effect has been the same in the scouting report. Additionally, Rose was actually a better perimeter shooter when he posted more attempts. Part of this is explained in his February injury which had him partially exhausted before the All-Star break. But the trend for decreased attempts and percentage has held and the pattern continued as the season winds to a close. It becomes more interesting when you look at the relationship between Rose's 3-point percentage and total production.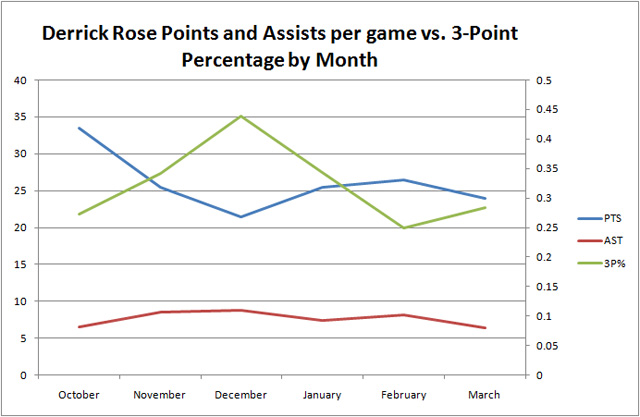 So Rose posts his lowest point per game mark in the month he takes the most threes of the year and hits the highest percentage. His assists don't fluctuate much month to month, but he does post his highest per-game assist mark that same month. The result is that a part of Rose's game which has been used as a huge part of his MVP candidacy hasn't actually held as much water as it seems like on the surface. It'll be interesting to see how teams defend Rose on the perimeter in the playoffs if he doesn't tick things back up in a major way to close the year.
This development does nothing to lessen his overall MVP candidacy, which in truth is not vested in stats, but in the apparent way he takes over the game as you watch it live. He's a brilliant playmaker and an elite finisher among elite finishers. But it does show some interesting patterns taking hold in terms of his range and perimeter effectiveness.