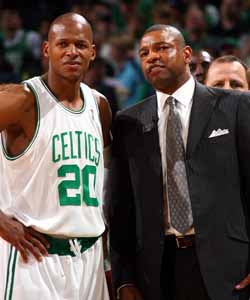 By Matt Moore
Doc Rivers was considering hanging it up, being with his family, going to a lot of Duke games, and taking it easy. But instead, he came back, immediately after the
Celtics
lost to the
Heat
in the playoffs, returning for another stretch with Boston to make one last run with the core.
Or not.
Rivers isn't locked out, but his players are. He's a general without his troops, and it's been difficult for him to deal with it, especially considering how close Rivers is to this particular group of guys. From the Boston Herald:
"It's like I was telling Danny Ainge," he said. "The blessing of this is that I'm nowhere near ready to not do this. I miss it. So there's some good things to this too."

The lack of contact with his players is probably the oddest aspect of the NBA lockout for Rivers, as evidenced by his chance encounter with Ray Allen during a recent golf tournament in Florida. Player and coach, walking in opposite directions, shook hands and kept moving.

"That was strange, really strange," he said. "We walked by each other, so you could shake hands, but you couldn't say much to each other. Just the way it is, but I miss it. I miss being around them – all of them."
via
BostonHerald.com - Blogs: Celtics Insider» Blog Archive » Rivers anxious to return from the lockout vacuum
.
The lockout is ridiculous from any angle, and this is another. Two people who won a championship together, who would bleed for one another can't talk at a golf tournament. This, my friends, is sheer idiocy.
But it's how it is. And if this thing plays out like it looks it will at this particular moment in time, Rivers may miss out on his last opportunity to make a run with this group of guys he believes in so much.
The damage of the lockout goes so much deeper than just owner and player money.