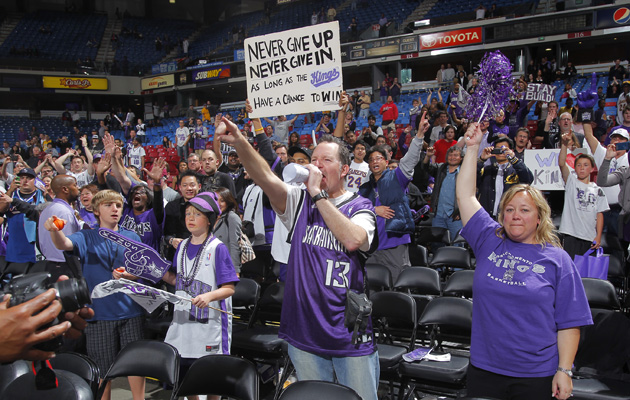 Let's see how many kids' dreams we can crush with contraction just to make the Knicks and Lakers better, shall we?

(Getty Images)
By Matt Moore
Oh, no, there's (insert problem in the NBA)! Quick, let's contract some teams!
That's pretty much the standard fare from a lot of mainstream basketball scribes. Their proximity to large cities, usually coastal, is something you should try and not look at too closely. It's like one of those 3-D images. Yes, it's a schooner, which is a sailboat, and you still have a headache.
The answer always seems to pop up. "Oh, we don't have enough stars!" Contract! "There's a lockout and the owners want more money!" Contract! "We're out of sandwiches in the media room!" Contract!
There's about a billion reasons why contraction won't be happening. David Stern won't allow it on his watch. Losing games, twice in 12 years? Sure. Losing teams? No way. One thing hurts your fans. The other hurts your business.
But let's say it did, because there are more fans of big market teams than small market teams, and big market teams love the idea, because they get a talent influx. Who goes on the chopping block? Here are teams that would be up for contraction, if we're going to go ahead and kill off sections of fans.
(
Franchise valuation data courtesy of Forbes
, attendance
via ESPN
.)
1. New Orleans Hornets:
Trying to avoid this conclusion is something I spent a solid hour on. Surely there's a way around this. But there just isn't. The Hornets staged a massive ticket sales promotion in order to try and boost their attendance profile for a potential buyer as well as to satisfy various city and state requirements regarding their lease. The result? They're 26th this season. With
Chris Paul
having gone to the
Clippers
, things are going to get worse before they get better. If we absolutely have to chop off a team, you have to start with the Hornets, as much as it pains me.
There are a lot of factors here, but George Shinn's horrific ownership should not be overlooked, nor should two natural disasters in the span of five years. But it's never been a strong market, and if we have to make cuts with our minds and not hearts, the Hornets have to be silenced.
Biggest argument against: Have you no soul? Honestly?
2. Memphis Grizzlies:
Such a great playoffs run. But here are the facts. It's one of the newest franchises, with little in the way of successful history (as in, none outside of last season). It's been evaluated as 29th in overall worth by Forbes. Despite making the playoffs last season and being expected to contend for the West this year, they are 21st in attendance, Z-Bo or no Z-Bo.
The Grizzlies are trying to build a new culture of passion and success in Memphis. But if we have to make the cut today, they have to be on the block. If you need me I'll be in the corner gurgling arsenic.
Biggest argument against: Memphis' playoff run shows what can happen if that fanbase is engaged.
3. Charlotte Bobcats:
Terrible team. The newest in the league. No success to speak of. Poor ownership. A fanbase damaged by George Shinn's tenure in Charlotte (hey, look, a theme!). The overriding influence of college basketball and its permeating stench throughout any sports discussion. The reasons go on and on. I mean, just look at their attendance.
They're... 14th this season?
That's up from 21st, which really isn't that horrible. And that's why they manage to slide to three. If you took the way the Bobcats have been run and put them in Memphis, New Orleans, or Sacramento, they're toast, first out the door. But Carolina gets basketball. So they slide to third. So... uh... good for them?
Biggest argument against: Decent attendance, run by the sport's biggest icon, awesome mascot.
4. Milwaukee Bucks:
We're going to kill off the first team Kareem Abdul-Jabbar, then Lew Alcindor, ever played for? The 1971 champs?
Yeah. We are. Milwaukee is rated last in the league by Forbes in overall value. Despite some promising drafts, they have yet to put together a contending core. Their arena situation is not dire, but it's going to get there in the next five years, and Milwaukee voters are unlikely to come streaming to the polls to help the team out. Killing off a franchise with this much history is pretty horrific, but at some point the dollars and cents have to matter.
Biggest argument against: Championship team, history, good ownership, active fanbase.
5. Sacramento Kings:
No one has fought harder to keep their team than Kings fans have. They have staved off their owners feeding vultures from Anaheim. They have scrapped up enough support for a new arena plan coming to vote this month during a recession. They have chanted and made documentaries and brought signs and banners and petitions.
And it still might not be enough.
This may be the best example of why contraction is flawed. Ten years ago, even six years ago, this would be incomprehensible. The Kings were on the verge, the doorstep, had their foot jammed into the entryway of the Finals. The biggest problem with contraction is that we look at it through the lens of the present. "Oh, the Bobcats/Kings/Bucks are terrible." But in five years, those teams could be San Antonio. Or OKC. Or Orlando. Winning will change your bottom line, and losing will change it just the same. But considering the arena situation at present time, the financial situation of the club, and their ongoing attendance issues, it's impossible to leave them out.
Biggest argument against: Here we stay.
Five more.
6. Atlanta Hawks
: You want to talk about history, this one's like chopping off a limb. But the Hawks are 28th in value, have been unable to put together legitimate success, and feature one of the most lackluster fanbases in the league. Atlanta may simply be oversaturated for the NBA.
Biggest argument against: It's called the Highlight Factory, for crying out loud.
7. Philadelphia 76ers:
You can already hear the sounds of those coastal writers crying out in agony. Start talking about an East Coast team that won a title within the past 30 years and it's a whole different story. But the 76ers come in at 22nd in value, just had the team sold, no real success even if you count the Iverson years that victimized a terrible, terrible Eastern conference, and continually have horrible attendance. They're bottom ten this season, and their team is a handful of games out of first in the conference.
Biggest argument against: Erasing what Moses Malone and Julius Erving did should be a federal crime.
8. Minnesota Timberwolves
: 27th in value, 24th in attendance despite all the excitement. The only reason this team gets put so high is out of practical considerations. Basically, despite killing
Kevin Garnett
's prime and bobbling the next All-Star they landed in
Kevin Love
, their owner is close friends with David Stern and one of the heads of the Board of Governors. You see that guy getting his team lopped off any time soon?
Biggest argument against: Rubio? Rubio.
9. New Jersey Nets
: Is there enough room in New York for two teams? Of course. Is there room for two fairly terrible teams? Additionally, if they can't get
Dwight Howard
, they should just pack up and go home, anyway.
Biggest argument against: They will always make money because they will play in New York now, and Prokhorov may come after you.
10. Indiana Pacers:
No NBA championships (3 ABA). They are 25th in value and dead last in attendance, despite being a top five team in the East. The Pacers have simply been unable to capture the city's attention since The Brawl. Maybe that just did too much damage, combined with the emergence of the Colts. Yes, it's a historic team, but without any championships since the ABA. And with the Fieldhouse eventually needing a new home and all the money the city has spent on sports and event facilities, hard to see it coming through.
Biggest argument against:
8 points. 9 seconds.
--------------------------------
In the end, any of these teams could become the
Spurs
in the next ten years. Or the Blazers. Or the
Jazz
. Or the
Magic
. It takes ownership, a little luck, and the subsequent success. Get that, and you're good to go. But we never see that when we talk about contraction. We only see the benefits for the
Bulls
, the Lakers, the Knicks. And we forget that while there are more fans in cities than towns, having an NBA nation makes the game that much stronger. But if we have to do the deed, those are the teams that should get the axe.