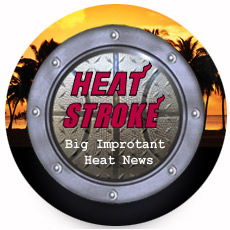 ESPN launching global initiative to track every conceivable detail of Miami's first season with the Triad. Posted by Matt Moore
You knew this was coming. If you're feigning outrage and shock, stop now. ESPN covers big stories with exhausting girth. That's their thing. They take the biggest stories, the ones likely to pull in the most people, and then they swallow them whole in a giant media albatross mouth. So it's only natural that they've now announced their plan for the
Heat
, and it is similarly behemoth.
You know why? Because we're all reading it. That's why. No matter how much people say they're sick of
LeBron James
, they're still in love with commenting on James news just to say how sick they are of it. No matter how much we argue they haven't won a single game, the fact is that all their games across the league are selling out and people are predicting record ratings. The Heat are going to sell. And ESPN has taken full advantage of that fact. It started with "The Decision" and it continues with the "Heat Index."
ESPN announced today
that they are launching a special coverage initiative called "The Heat Index" which is, honestly, massive. It features now-former
Cleveland Plain-Dealer
reporter Brian Windhorst, who has covered LeBron since high school, Mike Wallace of the
Miami Herald
, Kevin Arnovitz, who runs ESPN's TrueHoop Network, and Sebastian Martinez-Christensen to provide ESPN Deportes coverage.
The package itself is huge, with a running tracker of how the Miami Triad stack up against other Big 3's throughout history, Heat-related Twitter aggregation, any Heat content from across ESPN and the TrueHoop Network, 24 hour live streaming feed of LeBron's house, a 3-D hologram display of how much merchandise is being sold at the arena, and health meters attached to the players. Okay, those last three I made up.
When we launched this here Heat Stroke, it wasn't just to bring you Heat news, it was to show you just how completely ridiculous the coverage of this team is going to be on a daily basis, more than any other story in the NBA, including the 16-time-and-defending champion
Lakers
. That's the irony. We recognize how ridiculous the coverage of the Heat is and will be, and at the same time we're a part of it. Why? Because you want to know.
Everyone's obsessed with this team. They're genuinely excited about the combination of talent on board, or they love to complain about the coverage, and in order to do so, they have to seek it out. Not that finding it is going to be very hard. Get used to it, this is the new NBA world for the next 12 months. All Heat, all the time Until next summer, at which point it's all lockout, all the time.