By Matt Moore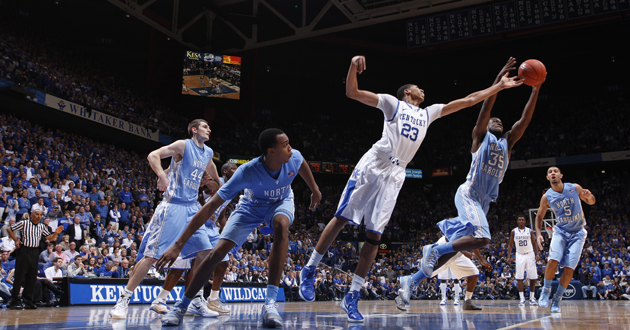 Well, that was fun.
There are worlds of storylines coming out of college basketball's titanic clash between Kentucky and North Carolina, a 73-72 Wildcats win on the back of an Anthony Davis block. And what could have been more fitting than a block by the projected No. 1 prospect in a game which featured a legitimate eleven first-round prospects between the 2012 and 2013 draft, and potentially more? It gave NBA fans a great look at talent.
It also gave NBA personnel a great look, and they were in attendance. More than half the teams in the NBA had representatives watching this game.
So how did they do? Quick, to the grade book!
(Note: These observations are based on how their performance showed for their draft stock, not necessarily how good or bad a game they had. Example: Harrison Barnes scored 1 bucket that wasn't a three-pointer. He also showed what you wanted to see from a prospect of his ilk.)
Anthony Davis: B-
And really, Davis is only getting the B- based on that final play which showcased the biggest reason he should be the undisputed No.1 overall pick in June. Davis managed to disrupt an entry pass, then recover weakside and block the game-winning shot. As my colleague, CBSSports.com college basketball expert Jeff Gooodman asked after the game, "Who else in the country can block that shot? Nobody."
But that play was an outlier for Davis on a day where scouts also got to see the concerns about him. On the very first play, the Tar Heels posted Tyler Zeller on Davis, and that started a day where Davis' lack of body strength due to his frame was finally shown on national television. Zeller bodied Davis all day, and while Zeller only scored 14 points, he would have had more had the Wildcats not consistantly brought doubles to help Davis. Davis is young, and has yet to grow into the eight inches he sprung into last year. He needs time in the weight room. A positive development was his rebounding: Davis did a much better job securing position and keeping space.
Additionally, Davis' ball-handling, which was considered a strength thanks to his play at guard prior to the growth spurt, was off Saturday. Twice Davis attempted drives on John Henson and the play was dismantled because of Davis' handle. He attempted a three at one point, who knows why, and did not attempt to play back-to-the-basket.
On the positive side, however, Davis did force enough help on the pick and roll to open up lanes and perimter shots for teammates, and his range help defense continues to be downright terrifying. His and-one finish on a lob from Michael Kidd-Gilchrist showed his finishing ability. It wasn't Davis' best day against elite competition, but the fact remains: he is the No. 1 because no one else can do what he can do.
Harison Barnes: B+
Barnes had a prototypical Harrison Barnes game. He consistantly showed the polish that makes him a top-5 pick. The raw uneveness we saw last year is gone, replaced by a shooter (4-5 from deep) who will make you pay by finding ways to get open and making smart plays. Defensivly, Barnes was in position when he needed to be. His foul trouble disrupted excellent work he had done on Michael Kidd-Gilchrist, which allowed for Kidd-Gilchrist's second half explosion.
Barnes still struggles with finishing shot that he creates, most notably a late miss inside of two minutes on a pull-up jumper. It was hero ball, which he'll likely be playing at the next level from time to time. But whereas last year he struggled with finding a quality shot on his own, on Saturday he created those looks, he just didn't knock all of them down. Barnes is not going to be a multi-faceted player, and isn't a playmaker, but the polish and range is more than enough to be considered an elite prospect. We're still waiting to see if he evolves into a complete threat versus being a complete player.
Michael Kidd-Gilchrist: A+
To start the second half, MKG scored seven points and assisted on a lob to Davis for an and-one. He finished with 17 points and 11 rebounds, 4 offensive, with a block and a steal. So yeah, he had a pretty good day. Kidd-Gilchrist is setting himself up as the abject steal of the top ten. The secret lies in his weakness, which is the only reason he will not be the No. 1 or No. 2 pick.
Kidd-Gilchrist's shot mechanics are all kinds of funky. He has trouble spotting up and there's a hitch at his elbow. He needs extensive work to better his jumper so that defenders can't give him room. He also has trouble with defenders who have good ball denial, as Barnes, John Henson, and P.J. Hairston all gave him trouble.
But when he gets loose... Wow. He had several insid moves in traffic to drop jaws and his finish on offensive rebounds was a difference maker.
Defensively is where he has the most potential. Against North Carolina he did an excellent job when matched up on Barnes. Against UNC he only got caught under screens twice and out of position twice that I saw, not bad for a freshman. He was aggressive in shot defense as well. MKG is the biggest winner of the day.
Terrence Jones: A
Best and worst, as always, with Terrence Jones. Jones had a sequence in which he made consecutive blocks to shut down a UNC possession only to watch the loose ball wind up in Harrison (swish) Barnes' hands. He attacked down low.
But then there's the perimeter shooting. I've made the
Josh Smith
mental comparison to Jones before, and this game re-enforced it. He hit a three... and wound up shooting five. Jones too often considers himself a perimeter threat instead of focusing on his ability to muscle and score inside. Defensively, he's got everything you want in a prospect, and he's a physical beast after another year. But that obsession with the perimeter continues, and someone will have to work it out of him eventually for him to be successful.
But Jones was still a huge plus for the Cats, and his work on the defensive side continues to impress. His first half was excellent.
John Henson: B+
Henson was given a series of tough matchups and excelled. His worst moment came on a pump-fake up-and-under from the left block resulting in an air-ball layup. But other than that he showed a surprisingly well-rounded offense.
Henson's length is a huge advantage, but the fact that his mid-range shot has come such a long way is a boon for his draft stock. He was limited in attacking at the basket thanks to Davis' length, but made up for it at the other end with three blocks. Henson is a likely top ten pick, based on his combination of size and savvy. His degree of polish helps as well.
Henson's weak point defensively Saturday was on weakside rotations. It's not a skill that's vital in most drafts since college players don't know how to play NBA defense. But in this draft it's crucial, and Henson got caught drifting several times Saturday.
Tyler Zeller: B
If the Tar Heels weren't en fuego from outside, Zeller may have wound up with more than fourteen points. As it was, he impressed with his ability to body the lengthy Davis back into the Kentucky coal mines. If he had a more explosive finish he could have really dominated the contest. But Zeller was also more efficient and kept up his expected level of activity. Zeller projects in the back half of the first round. But Zeller showed some of the skills Saturday that make him a likely long-term pro. He passes well out of the double and has enough touch to score when left open. He's never going to be a franchise player but he's likely to be a guy who can help your team win. Defensively, there's still a lot to be desired.
Kendall Marshall: A
Marshall doesn't have the athleticism. We knew that coming in. But what he does have is the ability to be efficient, to create, and to play within himself. Three turnovers were mostly on account of Kentucky's length, and his 2-4 shooting from deep was part of the Tar Heels' perimeter assault. Eight assists will also stick out in a game dominated by inside-out play.
Marquis Teague: C+
Teague blew the final possession, only to be saved by Davis, and it was coach John Calipari's decision to move Doron Lamb to point that helped steady the ship. On the plus side, his turnovers were down to only one after a rash of hem early this season, and he still has exceptional handle and speed. Teague continues to be the kind of player that right now is not a lottery pick, but you can easily see how he will be by season's end.
Doron Lamb: B+
There are questions as to whether Lamb is a first-rounder. He's not a great playmaker as his 2-4 assist-turnover ratio suggests. But he is an exceptional shooter, as he showed today, especially coming off the curl on the catch-and-shoot. He makes big shots consistently, and has enough speed and ability in the half court, you have to think someone will bite on yet another of Calipari's point guards.
P.J. Hairston: B+
Battling an injury, Hairston played just 14 minutes. But in that stretch he shot 3-4 from the arc and played lock-up defense on MKG. Hairston looks like a quality lottery pick, regardless of whether he jumps this season or next.
James McAdoo: B
McAdoo showed everything Saturday. He's tough. He's agile. He finishes. He's got an NBA-ready frame. He got very little time Saturday with all the other big names, but in 2013, he's going to be a machine. McAdoo has excellent court awareness. He shows all the raw signs you attribute to such players, but even in limited minutes, he looks like a big name to look for.
RELATED: Jeff Goodman of CBSSports.com with a UNC-UK game wrap.