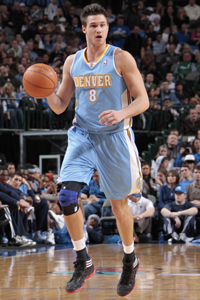 Gallinari has expanded his game and the Nuggets have inked him to a four-year extension
(Getty Images)
Posted by
Ben Golliver
and Matt Moore
Ken Berger of CBSSports.com reports the Denver Nuggets have signed forward
Danilo Gallinari
to a 4-year contract extension
.
Gallinari, 23, was the crown jewel of a trade package the Nuggets acquired from the New York
Knicks
for All-Star forward
Carmelo Anthony
at the 2011 trade deadline. A long, smooth forward, Gallinari was the No. 6 pick in the 2008 NBA Draft.
This season, he's averaging 17.4 points and 5.2 rebounds in 34.2 minutes per game, all career-highs.
The reported terms are more than reasonable. Gallinari is a solid second-tier player from his class, a clear cut below the max performers (
Derrick Rose
,
Russell Westbrook
,
Kevin Love
) but certainly no slouch. He's currently ranked No. 35 in the league in player efficiency and he poses a match-up problem for opponents on most nights given his perimeter skills as a 6-foot-10 forward. The $10.5 million annual salary puts him in line with the likes of
Andrea Bargnani
.
Gallinari is a native of Italy, where he was a standout as a teenager for Olimpia Milano. His first season and a half with the Knicks was spent primarily as an outside shooter. But as the
Denver Post
reported this week, that's changed dramatically this year as a "New Gallo" has emerged.
The Nuggets' coaching staff has put the ball in Gallinari's hands more than ever. In fact, Gallinari has not been this big a part of the overall look of any offense since before he came to America. He is shifted most often between the power forward and small forward slots. The biggest difference between the two in the Nuggets' scheme is that the power forward has more screening responsibilities and plays in the pick-and-roll a bit more than the small forward.

Other than that, Gallinari said, "it's pretty much similar – running and try to score fast."

Karl admitted the coaching staff was "a little leery" of making the decision to experiment with moving Gallinari around from position to position.

"Moving him around and using him in different ways, it sounds good on paper," Karl said. "But sometimes it messes with a player."
via
Danilo Gallinari's responsibility shift sparking his breakout season | Nuggets Ink — Denver Nuggets news — The Denver Post
.
Amazingly, as Gallo has taken on more of a ball-handling role in the pick and roll and other sets,
his turnover percentage has actually dropped
. His assists per game and per minute have nearly doubled. All this and he hasn't' really locked down his 3-pointer yet. There's nothing broken with his shooting form, his shot's just not falling, down to 31 percent from 37 percent last season. When that comes in, Gallo's all-around offense is going to be a nightmare for opponents. With the Nuggets' superb team passing in place, Gallo won't have to bear the brundt of being the sole producer offensively, and his salary leaves room for the team to continue to build around him.
In short, that Melo trade continues to work out just about as well as can be imagined for Denver.