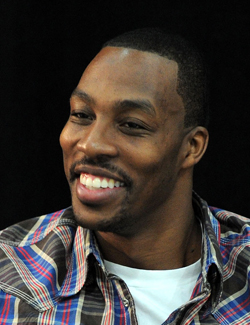 By Matt Moore
Dwight Howard
layed out some criticism this week towards
Magic
fans about how loud the arena is in the regular season. In the face of Howard's upcoming free agent after the 2012 season (you know, if there is one), combined with the fact that Orlando fit the bill on the new arena and the fact that they really have been one of the better crowds for a playoff team over the past four years, it didn't really go right.
Howard's not really the "I don't care what people think about me" type, or at least it seems that way from the massive amount of exposure he pursues. And that's not a bad thing, too often the reckless loner is a tired act that only excuses borish, rude behavior. It's a cliche in and of itself in bucking cliches. Regardless, Howard contacted the
Orlando Sentinel
, who he and his coach think are too hard on him anyway, to try and clear up the matter and difuse any problems from the Orlando Magic faithful.
In an effort to make sure Howard wasn't taken out of context, they printed his full statement. Excuse the heavy blockquote, we want to make sure Howard's comments are taken in full:
"I want to clear it up. In no shape, form or fashion am I criticizing our fans. My whole statement was when the season's around, and the playoffs come, it's a different atmosphere. And if you want to win a championship, we all gotta act as champions. That's players, coaches, and even our city. The city can win a championship, especially a city like ours. We need to come together, and not just for a couple games and the playoffs. If we're together all season, there's no doubt in my mind that we can win a championship. I will know that I have my city behind me."

It wasn't me criticizing any of my fans because I appreciate all the people that come and sell out the arena. Just know there's a difference, and you can put this on there or not, I just know there's a difference between the regular season and the playoffs. There's no difference between the regular season, playoffs, whatever… I'm going to give 100 percent every time I step on the floor. Like I said, most people don't get but one opportunity to see their favorite player. People who have season tickets, they get to see them play whenever, but most people only have one opportunity, so if you don't go out there and play as hard as you can for the one person that may not ever see you again, they will be disappointed. So I go out, play hard every night. This city's been supporting me, and I want to show them how I feel about them by playing hard every night."
via
Dwight Howard wants to clear air with Orlando Magic fans – Orlando Magic BasketBlog – Orlando Sentinel
.
Setting aside the season ticket holders comment (don't they pay for each and every chance to see the players give 100 percent, not to try and hope they catch that effort on a few out of the 41?) because that really is needless nitpicking (which I just did), there's a quick solution here. If Howard wants to set aside any bad feelings about his relationship with the fans? Sign an extension. Stay in Orlando. Everyone will love you then, no matter what you do.
Somehow, we don't see that happening.
Howard at least did care enough to make the statement, which does count for an awful lot. But it should be noted that this follows a similar pattern to all the other departures we've seen, with small pockets of conflict between the player and fans (like
Nuggets
fans booing Melo last season). Not to say that this points towards anything, just that it's part of a larger pattern. Maybe he'll buck the trend and stay in Orlando. That would certainly give the fans something to cheer about.