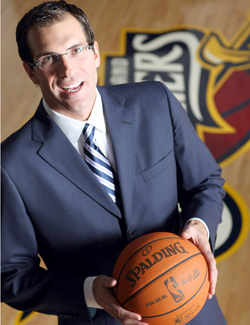 With the Cavaliers on the edge of historic failure, it's time for Cleveland to cut ties with everything and start completely over.
Posted by Matt Moore
We're past panic. We're past desperation. We're past even cold, hard, resignation. The Cleveland Cavaliers have to execute the most prolific fire sale in history over the next 19 days. No "or... ." No "or else." They simply have to. Everything must go. The Cavs tied the record for longest consecutive losing streak in a single season Friday night and are set to break it against the Portland Trailblazers Saturday. Should they win, it'll be a sigh of relief to avoid disastrous history. Then they'll go back to losing nine out of every 10 games. The time has long since come for General Manager Chris Grant to get desperate.
No more "waiting for the best offer," or "trying to get marginal value." You have one of the worst teams in history that is only slightly kept above the waters of all time futility by an emotional start that soon gave way to injury, discord, and failure. It's not these players' fault, really. The amount of negative energy created by He-Who-Shall-Not-Be-Referenced's departure was enough to sink the most positive of teams. Throw in significant injuries and a severe lack of talent and you've got this mess on Cleveland's doorstep.
But that's okay. I'm not advocating a fire sale because Cleveland fans deserve better than this dreck (though they do). It's not a punishment, and it's not some pathetic gesture from Cavs owner Dan Gilbert after his foolish promise about Cleveland winning a title. It's just business. You have bottomed out. The stock has hit an all-time low. Liquidate this thing, take your remaining assets, and start over.
(All salary data c
ourtesy of Sham Sports.
)
And it starts with
Antawn Jamison
. "Toine Spelled Tawn" has $13.3 for this season, or roughly $7.5 left this year, and then $15 million in expiring next season. With the CBA in place, you're going to have to dump him somewhere that actually needs him, and somewhere that doesn't mind paying for him. No one really needs him as he's shooting a career low 42% and is posting a career-low 16.4 PER. But Jamison can be a solid back-up power forward. The trick is to find a big market team with room to spare that isn't worried about long-term flexibility and has expirings to trash. You have to take back terrible value for Jamison, along with the rest of the Cavs. You're not going to get value for the contract or even really the production. Any offer that can reasonably work under the CBA should be taken, provided the resulting players do not have long-term contracts. Difficult, I admit, but as the deadline ratchets up, there has to be someone on the horizon willing to take a 16.4 PER back-up power-forward who may be amiable to a buyout next season. Again, the objective is not to get good value here. It's simply to get any value that clears space.
From there, it's
Mo Williams
. There are teams that need point guards. They're all over. Williams is pricey, with $17 million left over two years on the books after this season, but again, we're talking peanuts in return. The trick here should probably be to pick up a series of contracts that can be moved on draft day or bought out before the start of next season. Williams is still a serviceable point guard, and he does have an ETO in the last year of his contract. This should be easier, particularly if the team can weasel its way into a three-way trade conversation. There simply cannot be a value too low in return for Williams, despite his consistency. This contract and Williams' may be easier said to move than moved, but as long as Grant is active until the last second of the deadline, he should be able to find someone in need of a move. Teams do make moves for the sake of movement, and these are starting-caliber players. Kind of.
Anderson Varejao
's injury is simply devastating. He has close to $36 million left on his contract after this year, is a viable center who can bolster a contender's defense, and would fetch a good price on the market. That he likely cannot be moved due to injury is yet another terrible swing against the Cavs. A trade with the Oklahoma City
Thunder
,
as was discussed
, would have been perfect. Grant should focus all his energies once Varejao is medically cleared to moving Varejao. There will be takers, and their offers should be garnered in bulk.
Daniel Gibson
is cheap, ($4 million this season, $4.5 next) and his 2013 salary is non-guaranteed. He shoots 44% from the arc, turns 25 this month, and is mid-quality backup point guard. There's no reason he can't be thrown into another trade to sweeten a deal or moved to a GM known to love point guards. Veteran, reasonably young, and a crack shooter. He's still Daniel Gibson. But for a set of minimum contracts or used to acquire a useless expiring, Gibson could be a cherry on top.
Ramon Sessions
makes a high amount of mistakes in judgment, turns 25 years old this spring, and has $8 million over two years left after his $3.9 million due this year. He's also, arguably, the Cavs' most valuable contract. A 17.5 PER, while shooting a not-great 44% from the field, he averages
16 points and 7 assists per 36 minutes
. On the one hand, holding onto Sessions might be a good idea. He's young, can play the position, and produces. On the other hand, he's locked in through 2013. He's gotta go. Especially when you consider he actually has value. He needs to be used as bait to take on the other contracts of the Cavs, even if no one's climbing the Cleveland walls to get him. Point guards have value in this league. Move him.
From there, things get easier.
Ryan Hollins
is a big and he has a player option for next season.
J.J. Hickson
is a valuable asset in that he's a big man that could flourish in a lesser role under a different coach.
Christian Eyenga
, you keep. He's the one asset worth holding onto. Everything else is either non-guaranteed or expiring.
So what are you left with? Almost nothing. And that's fine. The trick should be to capitalize on second round draft picks as throw-aways in any moves you make, then try and swing into the first round using teams that don't want to pay their late first round picks. And there are always those teams. Every year an owner is willing to pay the guys he's got, but not a late first rounder who may turn out to be a steal. It boggles the mind, but that's how it is. Even in a depleted draft like this one, you just need bodies. Bring in D-Leaguers to fill in the gaps, try and find a diamond in the rough, and tank out the rest of the season. Secure a top three pick, pray the Lotto Gods are merciful, and be on your way towards another losing campaign next season, but with a player to build around. It's a painful process, and you'll look like a moron for all the value you'll waste in the next 19 days. But the next two years don't matter. That's how bad things are right now, that's how badly James hurt the franchise. It can't just be blown up. The foundation has to be torn out, the ground smoothed over, and some time spent letting the earth settle. Then you focus on what you can get in the draft and start anew.
There's no other option. Everything's gotta go in Cleveland. The fans will forget about the team. Maybe by the time the Cavs are ready to compete again, some of the wounds will have healed.