Posted by Matt Moore
Hold your nose, folks. This is going to get ugly.
Over the weekend, a woman who goes by the name Kat Stacks started tweeting at
Carmelo Anthony
. Stacks is a known hip hop groupie who has made a habit out of hooking up with performers and then discussing the encounters in prolific detail, publicly. She tweeted something towards the Nugget (at least, he's a Nugget for now), and his new bride didn't take too kindly to it. Soon, Ms. Stacks responded, one thing left to another, and... welll...
This happened: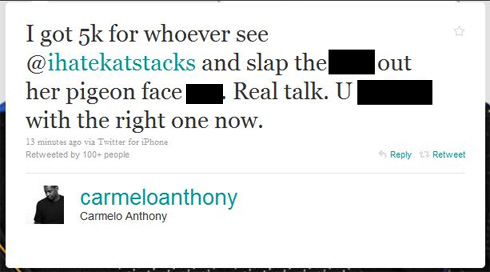 Classy.
Okay, so people react badly sometimes. Melo just lost his head for a minute. I'm sure he regretted it the minute he said it and immediately tweeted a retraction. Or...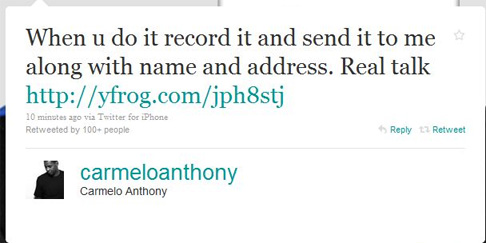 Oh. Okay. Well. Maybe he just tweeted twice without thinking. I'm sure that photo is just something harmless or a joke.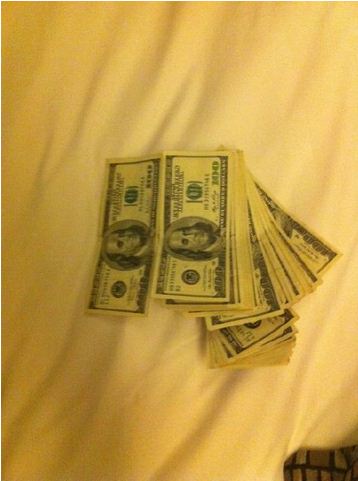 Gotcha. So he's pretty serious about that "I will pay you to slap a woman and send me photographic or video evidence" thing. Of course, maybe it wasn't Anthony. After these tweets appeared (and Stacks responded), Melo's account disappeared.
La La stated his account was hacked
(though not specifically stating those tweets were the result of the hack) and
Melo later confirmed that
when his account was reinstated. When he returned, the bounty tweets were missing.
It's entirely plausible that someone hacked Carmelo Anthonys' account, responded to Kat Stacks, then offered a bounty for slapping her, then took a twitpic of a large pile of $100 dollar bills. Best prank ever, right?
Today, though, it's not looking like just a ridiculous story of embarrassing groupie interaction. Stacks
tweeted tonight that she's filed a police report
against Anthony. It's inconceivable that this could end up as anything of substance, but it's still an embarrassing episode being played out in public. Hopefully Melo and his people can provide evidence the account was hacked and clear him of whatever charges are being considered.
Just to review.
Management executives fired.
Demanded a trade.
Making a movie in China.
Got married.
Put a slap-bounty on a groupie via Twitter.
Carmelo Anthony's life has been weird the past three months.
(Via Twitter,
White Hot
Heat
and
SBNation.com
)