Lakers lose fourth in a row, which leads to push-come-to-shove streaks, one of which must end. Posted by Matt Moore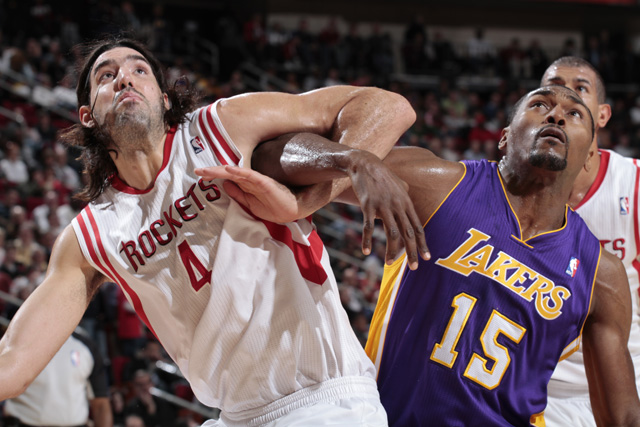 One loss is a laugh-off. Two is an annoyance. Three is concerning. Four? Four losses in a row? That's ominous.
The Los Angeles Lakers
lost 109-99
to the Houston
Rockets
Wednesday night, pardon me, the 5-12-entering Houston Rockets for their fourth consecutive loss. why are four losses, even ones as apoplectic as these, significant whatsoever for a championship-proven team in December?
Because of this, courtesy of
Andrew Siciliano of FSN
: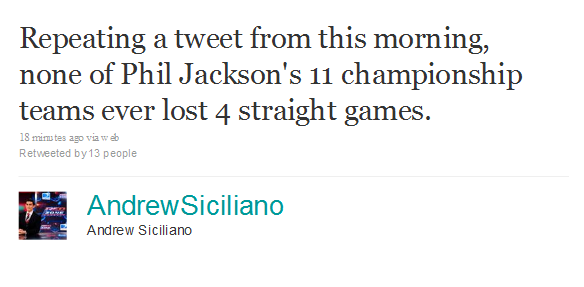 So that's pretty ominous. The Lakers aren't struggling because
Kobe Bryant
's out injured or because
Pau Gasol
is out injured (though Pau is struggling because of the lack of center depth with
Theo Ratliff
out and
Andrew Bynum
Andrew Bynuming). They're struggling because they're having significant lapses at the defensive end (
Shane Battier
scored 11 straight on them in the final minutes for crying out loud), and on offense, too often a no-longer-29-year-old Kobe Bryant is constantly putting up bad shots. On key possessions Bryant opted for the 40-foot-three-pointer shots instead of using all his knowledge and craft to create easier opportunities, extend the game or work for a quality shot.
The other trend that the 4-game streak omen is up against? Phil Jackson has never failed to complete a 3-peat. Given the fact that LA has five months to get it right, Andrew Bynum returns in a few weeks, and this team could not care less about the regular season and they're still only losing these games by a handful of buckets, we should probably bet on the latter trend holding up.
But it still should be noted that the Lakers right now? They're not very good at all.