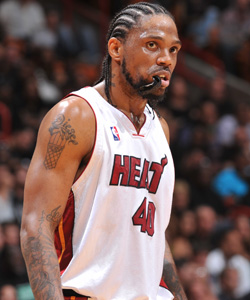 Charges dropped against Heat forward for marijuna charges after traffic stop this summer.
Posted by Matt Moore
You have to wonder if this is going to become a recurring theme for the Heat. Trouble faced, challenge overcome, walk away clean. Or maybe this is just your normal story about a player having charges dropped over a minor violation. Regardless,
Udonis Haslem
's lawyer told the Miami Sun-Sentinel's Ira Winderman that all charges against him from the August arrest for
marijuana possession have been dropped
. His laywer informed the paper that Haslem's prints were not found on the container in his passenger's luggage which contained the marijuana in question. Haslem has not had previous trouble on account of marijuana. Winderman reports it's unclear whether he will still be forced to attend the NBA's substance abuse counseling sessions, given, you know, he didn't do anything.
It's a welcome development for the Heat, to get the charges cleared and taken care of in advance of training camp. There's going to be enough distractions this year, and Haslem will play an important part in the Heat's defense and rebounding efforts this year. Not having him distracted will likely serve them well.
Haslem's passenger Antwain Fleming does still face the charges for his less than 20 grams of marijuana. In Miami. Yeesh. This is like stopping in the middle of the Titanic's sinking and being upset because someone spilled their water on the carpet.