Superstar talks to media amid trade talk, says he never asked to be traded. No one believes him.
Posted by Matt Moore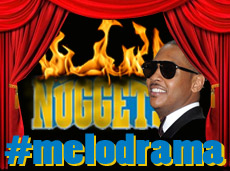 Carmelo Anthony
showed up at media day, and spoke with the media. It was short, it wasn't very sweet, and it was exactly what you'd expect. He took a handulf of questions, proclaimed "I'm a Nugget" and vehemently denied he ever asked for a trade.
There were several reporters in attendance, tweeting his statements to the press, including
Chris Tomasson
,
Chris Dempsey
, and others, and the theme was very evident. The meat comes
courtesy of the Denver Post
:
"I'm here today. Whatever the future holds, it holds," Anthony said this morning at the Nuggets' annual media day. "I'm leaving my options open right now.

"At the end of the season, I'll sit down with my team, I'll sit down with the Nuggets, and we'll talk about it. This has been a long summer. I'm just excited to get back to the court.

"I've never said I wanted to be traded. I never once said anything about trade talk."
Okay, then.
So Melo is following the company line, even as KB points out the most relevant line . "Whatever the future holds, it holds."
George Karl actually referenced the Kobe Bryant trade demand before the start of the 2007-2008 season, saying he'd call Phil Jackson to talk with him about that. But of course, that seems odd since Carmelo didn't ask for a trade... yeah. Awkward. This thing doesn't feel close to over, but the Nuggets may have been able to ratchet down the pressure a bit knowing Melo's in town and ready to work.