The Bulls have the top spot in the East, and are looking to win now. Not later, now. Their biggest weapon? They have no reason to doubt themselves.
Posted by Matt Moore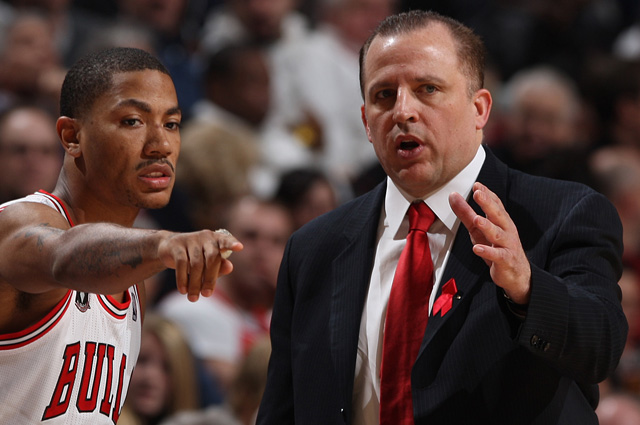 With Tuesday night's win over the
Wizards
and the
Celtics
' idle before Wednesday night's game vs. the
Pacers
, the Bulls took sole possession of the top overall seed in the Eastern Conference by a half game. That they have found themselves there this late in the season in a ridiculously top-heavy conference, despite both
Joakim Noah
and
Carlos Boozer
missing significant time to injury is a testament to the coaching work of Tom Thibodeau, the roster construction of John Paxson and Gar Forman, and the awe-inspiring growth of
Derrick Rose
. To reach a 48-18 mark shows that the Bulls are not just contenders for homecourt advantage in the first round, nor for an Eastern Conference Finals appearance, but a legitimate title contender.
And they know it.
Take for example, Rose's comments to Sporting News in a lengthy feature:
"We can win a championship," Rose says."We are not playing to get into the second round or anything. We are playing for a championship. I can't imagine having a goal that was anything less than that."
via
The evolution of Derrick Rose: How he went from big-name player to bona fide superstar - NBA - Sporting News
.
Or the comments made by Tom Thibodeau on
The Dan Patrick Show
:
Bulls head coach Tom Thibodeau was interviewed on Comcast SportsNet's "The Dan Patrick Show" Wednesday morning and while he backed away from NBA Coach of the Year talk, he did proclaim--at least initially--the Bulls to be the best team in the Eastern Conference.

When asked by Patrick, the show's host, Thibodeau calmly replied, "I believe we're there now."

However, it seemed that the first-year Bulls head coach was merely referring to the team's record, as Tuesday night's home win over Washington--the team's seventh consecutive victory and 12th straight at the United Center--gave the Bulls sole possession of first place in the East.

"I don't know if we're the best team. Our record says right now we are," Thibodeau later said. "There's a lot of work to be done and we're not complete."
via
Thibs dismisses Coach of Year talk, touts Rose
.
What really makes a team dangerous when they reach this level is their own belief in themselves. There's a certain gap that exists between teams that have reached the battleground and lost and those who are entering it for the first time. The Bulls have no prior experience in failure. The first-round flameout teams of the past two years might as well have served as practice runs for Rose to get his feet wet in the postseason. Those teams were wholly different in star power, composition, coaching, effiiciency, and effectiveness. The result is that the Bulls enter the postseason with no expectation of anything but success. Despite the phenomenal challenge they face this spring against the Boston Celtics, Miami
Heat
and Orlando
Magic
, the Bulls have no reason to believe they can't win. This goes beyond the cliche'd idea of "Why not us?" and extends instead to a surge of self-believe that is strong enough to carry them to the title itself.
Some teams have to work past their own failures, Jordan's Bulls, for example. But others are simply born into belief and that belief is paramount to matchups, performance, or even chemistry. The Orlando Magic in 2009 rode that same self belief to the Finals, falling only when faced against a substantially superior opponent (and partially thanks to the absence of
Kevin Garnett
, but let's not ruin a good story). The reality is that Rose pushed the Celtics to seven games two years ago with a worse team, and the Bulls' coach has knocked off LeBron's
Cavaliers
and Howard's Magic. This isn't some far-fetched idea, it's reality.
As far as the top seed in the East and homecourt advantage in the playoffs, things are pretty favorable for Chicago. Of their remaining 16 games, only six are against playoff teams. Only two are against top-four teams in either conference. Boston's schedule, while not extremely difficult, does feature a harder course, especially for a team still trying to integrate two new major rotation players and get the O'Neals back in working order. Miami may have an even shot at it, but they've proven no ability to close anything this season.
Homecourt for Boston means a huge advantage. A raucous crowd that knows what playoff games mean, the mental edge of having that familiarity in surroundings, and the ability to enter as the favorites. They're in line to not only make a strong statement in their first year of contention, but to knock on the gates of greatness itself. Now it comes down to whether that belief is enough to overcome the positional disadvantages they face.
Carlos Boozer's going to be a problem. He'll get his buckets, but he's just as likely to get swallowed up by an effecitve power forward defensively, and to be marginalized on the glass. He's a defensive disaster at times, a minor component at best.
Luol Deng
is versatile, athletic, and can be a difference-maker. He's akin to the
Lakers
'
Lamar Odom
in many ways, where if he's plugged-in, the Bulls are at another level. But when he's floating and drifting, he's nothing but a contested mid-range jumpshot taker who occasionally gets lost on backscreens.
Kurt Thomas
is no spring chicken, Joakim Noah is offensively limited, and the Bulls are relying on
Keith Bogans
for perimeter shooting.
But the way the Bulls counteract all those issues is simple. Their whole is greater than the sum of its parts. The reason for that's pretty simple. He can be found running his voice sore on the sideline night after night, and pushing Rose to be the megastar Chicago needs him to be.