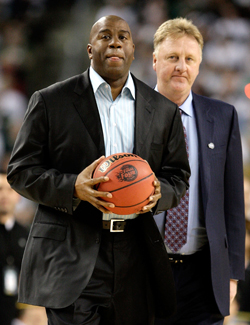 Play about Larry Bird-Magic Johnson rivalry set to hit the stage in 2012.
Posted by Matt Moore
The Larry Bird vs.
Magic
Johnson rivalry is arguably the greatest in all of basketball. It defined not only its era, but set the bar for all subsequent grudge matches between players in their prime.
Celtics
-Lakers has always been a rivalry. But Magic v. Bird took it to the entirely next level we see today, and even
Kevin Garnett
's spittle or
Kobe Bryant
's jaw can't quite seem to reach that fevered pitch. So it's only natural for the rivalry to have been dissected and showcased as it has, in several books, a documentary, and countless television debates. But now we get something a little bit... different.
The playwright and producers for
Lombardi
, the on-stage production about the famous Packers coach
have turned their eyes upon Magic vs. Bird
, and in cooperation with the NBA will be producing a play based on the battle between Larry Legend and the Magic man. Production is scheduled for a 2012 debut, and both Bird and Johnson will be working with the creative team during the process.
Johnson's life won't be difficult to inflate to on-screen proportions. Johnson is an over-the-top personality who was beloved by nearly everyone he met and who the media gravitated towards. He had the flashy smile, was the life of the party, and changed the way we look at point guards forever. Bird, on the other hand, is a bit like Chigurh from "No Country For Old Men," a mostly-silent, emotionally-strained and cold-blooded player who generally didn't like the attention brought on by the media. But then, that juxtaposition, combined with both Bird's country roots and the close friendship that formed between the two should make for some decent material. The fact that their rivalry started in college and followed throughout their careers gives quite a bit of a plotline here as well.
If we're going down this road, can we make a few other suggestions for some on-screen adaptations?
Half-Cocked: The Life and Times of Gilbert Arenas
.
180 Days on a Wire
. The incredible true story of
Carmelo Anthony
's trade saga. Better wait about ten years to produce this for when we want to hear about it again.
The Beard, the Boom, and the Hotcakes
.
Baron Davis
and his lifelong love affair with pancakes.
Cantankerous
. Jerry Sloan's retrospective. Perhaps as a musical!
Cats
. How Michael Jordan bought the
Bobcats
. Wait. May need a different title.
The BRIs of Love
. How the NBA and the player's union put their differences aside for love. Yet to be written.