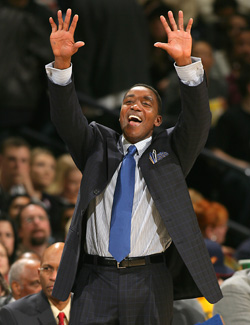 By Matt Moore

Back when this delightful lockout began, the words "hard cap" were still very much in play. The idea was that the owners were going to get everything they wanted, exactly as they wanted them, and that included a hard cap that would be substantially lower than the cap structure in the prior CBA. That had some pretty terrifying consequences for big-spender teams who might have seen forced cuts of superstars they'd worked hard to acquire, or an inability to build on the core they've built. The
Knicks
, for example, might have been stuck with the basics of last year's squad, unable to improve enough around the two stars to compete for a title. Luckily for them, the hard cap has been removed from the conversation, replaced with luxury tax discussions while the league continues to pound the union's BRI into oblivion.
In fact, the cap structure won't change and will actually increase next season, according to the
New York Post
:
According to multiple sources, one of the resolved issues in a new CBA is the 2011 salary cap will remain at the level as it was in 2010 -- $58 million.

"That's what we've been discussing, though the exact dollar amount is not set until the new deal is done,'' said one league source, who added no new talks have yet been scheduled.

Economic projections from sources say the salary cap will then grow to about $60-$61 million in 2012, when the Knicks will have the largest cap space in the league and have room to woo either Chris Paul, Deron Williams or Dwight Howard, who are slated to become free agents. The Knicks could be at least $20 million under the projected 2012 cap.
via
Knicks owner Dolan works to keep NBA salary cap same size - NYPOST.com
.
So the Knicks' dream of building their own superteam is alive and well, and their pursuit of the final piece of the puzzle begins this year (or may have already started
depending on your take on the Isiah Thomas rumors
). They'll have to make some tough choices, though, what with needing to build supporting pieces as well as nab one of the 2012 big three. It'll be interesting to see Dolan's response to the new luxury tax and just how much is too much for the MSG mogul.
But for those that enjoy this era of super-teams, the cap will remain in place to make it a possibility.