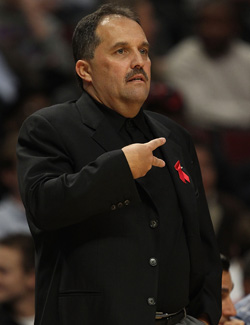 By Matt Moore
This is not a new subject. Since the
Magic
came into relevance in 2009 with their blistering 3-point barrage to make the NBA Finals, pepole have been questioning their offensive philosophy. The basics go somethings like this:
People think that shooting the 3-pointer is not an effective way to run an offense because it relies on long-range jump shots and eventually, those aren't going to fall and what are you going to do then?
The response, then, is that you should drive more, because that creates high-percentage opportunities, which are around the rim, or at least forces the defense to react to that threat, allowing easier pull-up and spot-up jumpers.
In order to do that, you have to have the personnel which can create off the dribble, attacking the rim. There are a lot of questions about whether the Magic have that kind of system. If they don't, it's wondered if that's the case because of the system they've designed.
But here's the rub: the Magic's offense has actually been really efficient the plast few years. So what happened last year? Talking to the
Orlando Sentinel
, who he apparentl is not a big fan of, Stan Van Gundy says it was just one of those years. He also thinks you can't magically force your personnel to drive if they're not good at it. From the
Sentinel
:
"Especially from an offensive standpoint, this is a personnel driven league," Van Gundy continued. "You do with what you have. We get it from our media all the time and our fans. We'll have those nights, 2-for-23 from three. They say you gotta drive the ball more. Who? Who? That's my question. Who? Who's going to drive the ball? That's not who we have. If I had a different team, there are a lot of guys in the league that I wouldn't shoot threes with. We have who we have and we're going to build our system around it."
via
Stan Van Gundy defends Orlando Magic's style of play – Orlando Magic BasketBlog – Orlando Sentinel
.
Van Gundy's right that they have who they have and they should build their system around it. Unfortunately, their personnel wasn't well fit for anything last season, which is why they ended up out of the first round. The 3-point shot didn't just abandon them, it snuck out in the middle of the night and took the cat.
But there needs to be a priority to change that personnel and bring in someone who can create off the dribble. Additionally, the Magic offense became so dependent on the 3-pointer last year that it abandoned what had made that approach so successful in 2009, the extra pass. The Magic took whatever was the first 3-pointer available last season as opposed to pushing that extra pass to the player who has time to spot up.
Orlando needs a lot of work to re-open the window. That starts with getting a perimeter playmaker who's more than just a spot-up shooter.