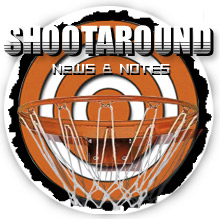 Terrence Williams may see the floor, Yao Ming may not retire, and Rodney Stuckey likes unicorns (not really), all in today's Shootaround.
Posted by Matt Moore
Terrence Williams
may finally get some burn
in Houston. We remain skeptical, since two different coaches have yanked his playing time away. Surprising fall for the swing man.
The
Kings
may be in a selling mood
, but don't count
Omri Casspi
among the items on the front lawn.
Even after surgery.... again, Yao Ming ma
y not be planning on retiring
. Worse still than retiring though would be being one of those players who can't find a team to sign you because of your injury concerns. We hope the best for Yao, but in the event that his career can't get righted, we hope he is smart enough to take the high road out.
Nets
fans had low expectations of
Sasha Vujacic
when he arrived in the Terrence Williams trade. But
he's making a believer out of them
now. He hit the game winner the other night in a huge home win over the
Bulls
.
Need4Sheed exposes Rodney Stuckey's
twitter account as a bot with the headline
: "Rodney Stuckey: 'I like unicorns, Cotton Candy, Star Trek and Harry Potter movies.'"
Carlos Boozer
was not exactly thrilled
with being benched for the final 14 minutes in the Bulls' loss to the Nets the other night.
In short, the
Magic
have a very balanced offense
since the mega-trade.
Mayor Kevin Johnson in Sacramento put together a task force towards getting a new arena.
It erupted into a verbal skirmish this week
. Yeah, things are going
that
well.
Tyler Hansbrough
will start at power forward
for the
Pacers
, a sign of the desperation mounting in Indiana.
Suddenly
Jodie Meeks
being
back in the lineup
is a big deal. Strange times.