New Orleans Hornets point guard Chris Paul returned to practice on Thursday after suffering a concussion on Sunday. Posted by Ben Golliver.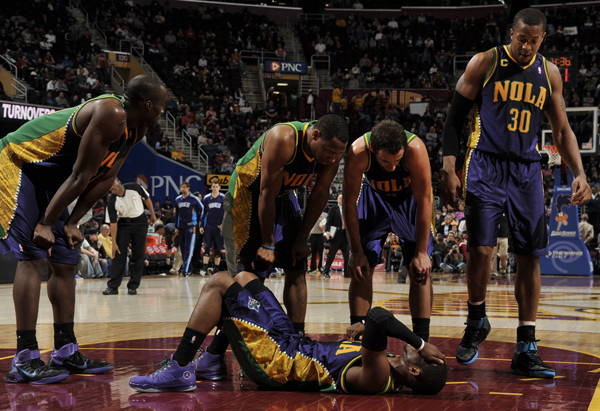 Back on Sunday
, we noted that New Orleans Hornets point guard Chris Paul suffered a concussion against the Cleveland
Cavaliers
. On Thursday,
the Times-Picayune reported
that Paul returned to participate in the team's non-contract practice and that coach Monty Williams said Paul would undergo testing on Friday to determine whether he is ready to return to the court.
"We went through some offensive stuff and got a lot of shots, but we didn't do anything physical today," Williams said. "I just thought it would be prudent to get away from beating up on each other, and off that long road trip (last week), I just felt we needed a day to get acclimated to being at home. Today was a short day where we just walked through some things, got a ton of shots up and (Paul) participated in everything."
Williams said Paul was scheduled to undergo another neurological exam on Friday to determine whether he'd get clearance to play against the Sacramento Kings on Saturday.
"The test is scheduled for Friday and after that they can make a better evaluation," said Williams.
So far, Paul has missed Monday's loss to the Chicago
Bulls
and a dramatic win over the Dallas
Mavericks
on Wednesday. The Hornets next play on Saturday against the Sacramento Kings. The Hornets are currently the No. 7 seed in the Western Conference, with a record of 38-29, 1.5 games ahead of the Memphis
Grizzlies
.
On Wednesday
, the NBA confirmed that it was considering adding a league-wide policy with regard to treating concussions, as six players in the last month have missed time due to concussions.