The sale of the Golden State Warriors has reportedly been delayed again. Posted by Ben Golliver.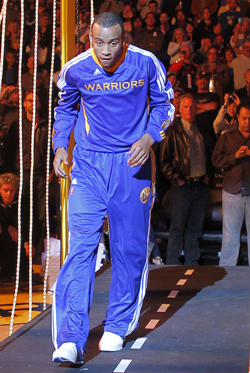 The Golden State Warriors have been known, first and foremost, for their insane pace, eschewing defense for run-and-gun fun. But when it comes to the franchise's sale, things are moving glacially.
Matt Steinmetz of CSNBayArea.com reports
that Joe Lacob, who agreed to purchase the Warriors from previous owner Chris Cohan over the summer, will not officially complete the transaction and transfer of power on Friday, as previously expected.
Well, turns out Joe Lacob isn't going to be the owner of the Warriors by Friday, which was something NBA commissioner David Stern had wanted. Looks like it's going to be November.
Steinmetz also notes that the official deadline for the deal is Dec. 31, but that eveything appears to be "on track." Speaking of on track, the Warriors started the season off in
impressive fashion
, running past the Houston
Rockets
132-128, thanks to a career-high 46 points from guard
Monta Ellis
. It's now been
three and a half months
since the sale agreement was announced as "official." If only Ellis could help Lacob get this process back in the fast lane.