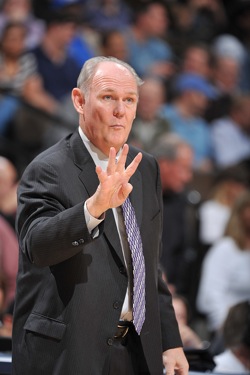 Posted by Royce Young
I've never seen a game end like the one in Denver did last night. I've never seen
a buzzer-beating charge.
But that's how a classic
Nuggets
-Spurs game ended Thursday night. Seconds after hitting the go-ahead basket,
Manu Ginobili
slid in under
Carmelo Anthony
and Carmelo plowed over the Argentinian. The ball went through the hoop as the buzzer sounded. But under the noise of celebration was not one, but two whistles with two different referrees calling the same thing. Charge, No. 15.
Obviously, Denver people were upset. The fans were livid. They're still livid. George Karl was seen on camera saying something that started with the word "bull." So when Karl spoke ot reporters after the game, everyone braced for his comments that would surely bring a fine.
He didn't disappoint. He had questions for the officials. He hinted at a conspiracy against his team. But surprisingly, that wasn't really about the charge call that ended the game.
Via Fanhouse:
"It's a play that I think goes either way a lot,'' Karl said. "It seemed like the referees, they like to hit us with tough calls. It was a tough call. Good play. Good basketball. Melo made a great play. It's close. I've seen it called both ways."

You can actually feel Karl tip-toeing around criticizing the officials. But he did imply that the officials seem to favor his opponents. Really though, Karl was more upset with three fouls called on his center Nene that led to the big Brazilian fouling out with a few minutes to play.
"If we show them on film, they don't exist,'' Karl said. "We have films that we send into the league office that (fouls) don't exist. And here's a guy that's close to an All-Star, and he just doesn't get a lot of respect. I think it affects you. We tell them to fight through it, forget it, refereeing will come back and all that stuff. It just sometimes seems that we don't get the whistles sometimes I think we earn by how hard we're playing and how well we're playing.''

Karl is a bit frustrated, and understandably so. He saw a charge called against Anthony in New York in the Nuggets 129-125 loss with 16 seconds left that proved to be big.
Against the
Spurs
, it was some of the calls late that irked Karl. But if you want to play the box score game, San Antonio actually out-fouled Denver 29-23 and the Nuggets attempted 10 more free throws. That doesn't necessarily mean anything, but it's notable.
Any time you lose, you feel jilted by the refs. And any time you lose the way the Nuggets did on a call that never happens, you
really
feel like you've got a reason to complain. But it was the right call in Denver. It wasn't like this a touch foul that you let go at the end because you want players to decide the game. This was a clear-cut charge. Even George Karl seemed (somewhat) understanding of that.
He's just mad at the other 47 minutes and 59 seconds.