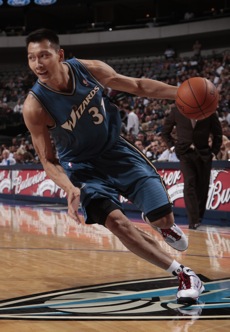 Posted by Royce Young
It's kind of easy to be overlooked in Washington right now if your name's not John or Gilbert. Those two are the ones making all the headlines and news right now, both for different reasons.
But quietly,
Yi Jianlian
, who was nothing short of fantastic in Turkey during the World Championships, is off to a quality start in preseason. So much so that the
Wizards
getting to work on an extension for the fourth year big man.
ESPN.com's Marc Stein tweeted late Friday,
"Amid
John Wall
/
Gilbert Arenas
focus, Yi's solid start ignored. Heard this week extension for Yi by Nov. 1 deadline 'under consideration' by Wiz."
In Turkey, Yi averaged 20.2 points and 10.6 rebounds and in Washington's first preseason game Tuesday, the Chinese big man put up 11 and 10. Then next game which was last night, he went for 16 points and seven rebounds.
Does "under construction" actually mean Yi will have an extension to sign before Nov. 1? By no means. But for a guy that looked like a bust in Milwaukee, to a guy that showed promise in New Jersey, to a guy that's looking at getting an extension and legit playing time in Washington, Yi has already walked a few miles in his short NBA career.
The Wizards gave Andray Blatche a nice big contract extension a few weeks ago and picked up the option on JaVale McGee, so there could be some question as to where Yi fits. He was acquired for Quentin Ross and cash, but if the extension talk gets serious, Yi might be a high value guy that can settle in and play three positions in Washington.