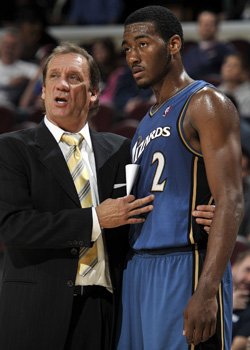 Wizards rookie already taking reins as captain as team heads toward regular season.
Posted by Matt Moore

Can you teach leadership? The jury's still out, you have to think. There have been many players that have grown into being leaders after bouts with immaturity of sheepishness, and some players just never get it, despite the attention paid to them by coaches on the matter. But some players, at least, do get it right away. One such player is
John Wall
.
The prodigal point guard has already claimed captain status on the Wizards alongside
Kirk Hinrich
. And boy, if that isn't opposite sides of the coin. Wizards blog
TruthAboutIt.Net has the scoop
:
On Monday afternoon, when I asked Flip Saunders who had arisen to fill the team captain position(s) this year, he sounded pretty confident that 20-year old John Wall and soon-to-be 30-year old Kirk Hinrich would be his men. "Right now we've gone with Hinich and Wall. Those are the two guys, at this point, that have shown leadership through camp. So that's where we're at right now," said the coach.
So you've got a 20 year old kid who has come in and been vocal enough to be a leader on a squad filled with NBA veterans, all while showcasing explosive athletic ability and tremendous vision at the most pivotal position in the sport. Yeah, I'd say that whole lottery thing worked out pretty well this year for the Wizards. Weidie at TruthAboutIt.Net went on to ask Saunders about
Gilbert Arenas
. You know, the former All-Star veteran who you'd hope has taken a forceful voice in practices in order to make up for the time he missed last year and repair his significantly damaged reputation:
"We just haven't really talked," said Saunders. "Those two guys have been our two most vocal guys and our two guys that have shown leadership."
Well, then. That's unfortunate, though not unexpected.
Back to Wall, it's things like this that make you believe this kid could have a higher learning curve than even his Calipari-bred predecessors in
Derrick Rose
and
Tyreke Evans
. In fact, Wall may be the most cerebral point guard to come out of the top five since
Chris Paul
. All with excellent instincts, athleticism, and vision. Now if he could just get that jumper wet...