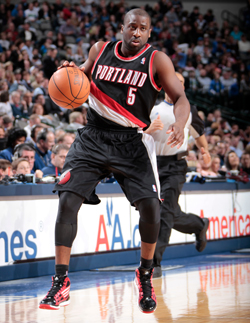 Raymon Felton is being benched in Portland.
(Getty Images)
Posted by
Ben Golliver
The writing has been on the wall, and now the move has finally been made.
The Oregonian reported on Tuesday
that Portland
Trail Blazers
coach Nate McMillan has elected to bench point guard
Raymond Felton
and will replace him in the starting lineup with
Jamal Crawford
.
CSNNW.com confirmed the report
, and caught Felton's less than enthusiastic response to his demotion.
"He (Nate McMillan) called me this morning and told me we got to have consistency from that position and that a 7-point quarter was unacceptable," Felton told CSNNW.com. "I'm not just going to blame myself for that first quarter. We're a team. We win together, we lose together."
Felton's starting job has been in question for some time. As noted last week, he has struggled both on and off the court. He's averaging a career-low 10.0 points per game, he's shooting a career-low 37.1 percent from the field, he's shooting a career-low 22.9 percent from beyond the arc, he's averaging 6.3 assists (the fewest since his rookie season) and,
according to HoopData.com
, his turnover rate is at a career-worst level.
Meanwhile, the Blazers are 5-7 in February and scored just seven points in the first quarter of a Monday night loss to the Los Angeles
Lakers
. This after a
Thursday night loss
to the Los Angeles
Clippers
in which Felton shot shot 0-for-7 and committed five turnovers, playing just 24 minutes as coach Nate McMillan opted to sit him during the final stretches of the game.
Following that game, Felton said he
didn't feel that McMillan trusted him
.
Those comments, coupled with Tuesday's insinuation that he is being blamed for Portland's poor performance against the Lakers, are not going to play well for McMillan, who told reporters on Saturday that the disagreement between Felton and himself had been resolved. Portland's brass also won't take too wel to the public nature of the comments, as the organization has long advocated an in-house solution to resolving any grievances.
The biggest issue here is that Felton still doesn't seem to have come to terms with the reality of his poor play. He's been one of, if not the least, effective players in the NBA playing 30+ minutes per night. His player efficiency rating is currently that of an average back-up point guard, not a surefire starter. His minutes and role had to be reduced. There's simply no way around it until he demonstrates he can return to being a far more effective player.
Crawford, a score-first two guard by nature, is not a likely panacea, although he has run Portland's offense somewhat effectively this season and is capable of running a nice two-man with forward
LaMarcus Aldridge
. He's certainly not a long-term solution for a team with aspirations of playoff success.
It sounds like a broken record, but the All-Star break can't come soon enough for Felton and the Blazers. You can probably say the same thing about the upcoming trade season.