The Boston Celtics look to even their Eastern Conference semifinals series with the Miami Heat on Tuesday night.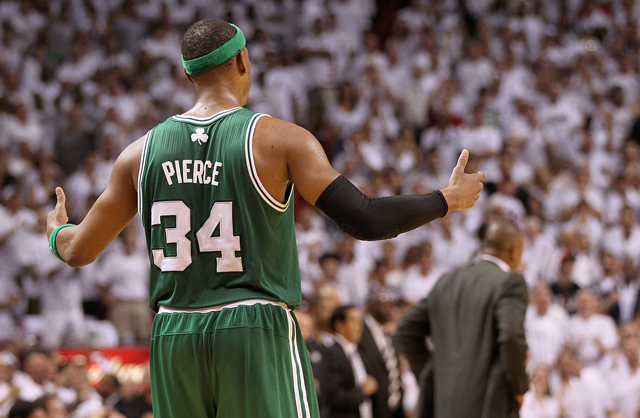 MIAMI LEADS 1-0
One Big Thing:
Game 1 win was all about the Big Mo: Momentum. It was the perfect, confidence-boosting start for the Heat. Their dominant, level-headed performance in a physical game went a long way in answering questions about whether they'd fall apart or get bullied in the big moment. The Heat's bench production --
spearheaded
by
James Jones
-- proved they're capable of playing a full 48-minute game against Boston. Game 2 should serve as a hinge on the series. If Miami can repeat -- or approximate -- their Game 1 performance, Boston will be facing an inordinate amount of pressure when the series returns to Massachusetts. If Boston manages to even things up, all of Miami's old doubts -- Are we deep enough? Are we tough enough? Can we win on the road? -- will arise again.
The X-Factor:
Celtics point guard
Rajon Rondo
has been identified as the single X-Factor in the Eastern Conference playoffs since back in early April. That's only more true now that the Celtics are staring at the potential of an 0-2 deficit. In Game 1, Rondo was limited by foul trouble and shot poorly, finishing with eight points on 3-for-10 shooting. The Celtics never need him to be a go-to scoring threat, but he should dominate his match-up against the likes of
Mike Bibby
and
Mario Chalmers
. But sometimes it's as simple as staying on the court. Rondo played just 32 minutes, making it difficult for Boston to establish its offensive rhythm and dictate tempo, especially given the emotionally charged Game 1 atmosphere and the fact that
Dwyane Wade
was having a Supermanlike game for the Heat.
The Adjustment:
I hate to make this one about the officials, but the biggest adjustment will be in how these two teams are treated by the zebras. In Game 1, four technical fouls and a flagrant foul were dished out, but the league office stepped in after the fact to
downgrade and rescind
some of the harsher in-game rulings. Boston, clearly, is hoping the game is whistled a bit more loosely, so that there isn't a repeat of
Paul Pierce
's needless ejection.
The Sticking Point:
Will Wade fall back to Earth? And, if so, how far will he fall? He was dominant with the ball and with his play-making. He set up
LeBron James
beautifully on multiple occasions while making
Ray Allen
's life miserable. This is where the whack-a-mole
Magic
of the Big 3 comes into play. Should the Celtics devote more attention to Wade, they'll be opening doors for James, who had an off night by his standards, scoring 22 points on 19 shots, and
Chris Bosh
, who was big on the glass but provided little scoring pop. Miami needed every last Wade bucket on Game 1. He did his part. Who's up next?