Further allegations revealed that Donald Sterling has engaged in unacceptable behavior as owner of the Los Angeles Clippers.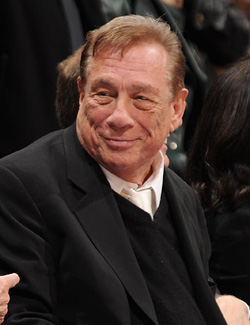 Posted by Matt Moore
For those who pay attention, allegations that Donald Sterling has displayed racist, unconscionable, penny-pinching behavior and a sole pursuit of profit in the face of opportunities to win should be the polar opposite of shocking. But learning the depths of just how hollow his moral mine shaft is reported to be always makes for a nice story, and today is no exception. ESPN has obtained more court documents in Elgin Baylor's case against Sterling. Take us to the highlights, J.A. Adande:
"Because of the Clippers unwillingness to fairly compensate African-American players we lost a lot of good talent, including Danny Manning, Charles Smith, Michael Cage, Ron Harper, Dominique Wilkins, [Corey] Maggette and others," Baylor said.
Okay, well there are always reasons to pass on players, and while Sterling's character history doesn't necessarily support the idea that these decisions weren't racially motivated, it's difficult to argue without providing context for where the team was at in its manifest and where those players were at in their careers. So hey, this one's probably duck-able. What else?
Dunleavy said that during a team trip to Russia in 2006, Clippers officials were dining at a restaurant called Rasputin when Platt, the Clippers' attorney, told him that the Clippers thought Baylor was too old and they were going to fire him. While the Clippers told Dunleavy that Baylor only wanted to work for two more years, Dunleavy said he never heard that from Baylor, and Baylor said in his statement that he never told anyone that he wanted to retire.
Okay, well, that's not stellar behavior, and Baylor's probably going to have a case, but really, that just sounds more like an employer having difficulty in managing employees. That's not good, but it's not outright horrible. It looks like there's nothing in this round of revelations which would really make Sterling look terrib ... oh. Yeah. There's this.
"While ignoring my suggestions and isolating me from decisions customarily reserved for general managers, the Clippers attempted to place the blame for the team's failures on me," Baylor said in the declaration. "During this same period, players Sam Cassell, Elton Brand and Corey Maggette complained to me that DONALD STERLING would bring women into the locker room after games, while the players were showering, and make comments such as, 'Look at those beautiful black bodies.' I brought this to Sterling's attention, but he continued to bring women into the locker room."
Look, most situations between people are more complicated than they seem. and they often involve a great degree of dissonance between one party and the other. It's a more difficult world than most people make it out to be. But if these, and all the other accusations are true, Donald Sterling is an abomination to a not-at-all exceedingly honorable league of NBA owners. He is a blemish on the NBA, and a detriment to the league. And the fact that he's allowed to continue pursuing his agenda in such a profitable market as Los Angeles represents a failure by his fellow owners, the league, and David Stern to set a standard of conduct and hold its representatives to it. The NBA wouldn't tolerate such behavior in its offices, yet here is an owner, a voice among the group that is determining the future of this sport in the next year, who lacks not only a drive to win, not only an objective of running an operation well, but who flaunts racism in a predominantly African-American sport. I seem to ask this every six months, but I will ask again.
What's it going to take for the NBA to purge itself of the disease that is Donald Sterling?