Allen Iverson has reportedly agreed to join Besiktas, a basketball team in Turkey. A top official has confirmed that the move is likely. Posted by Ben Golliver.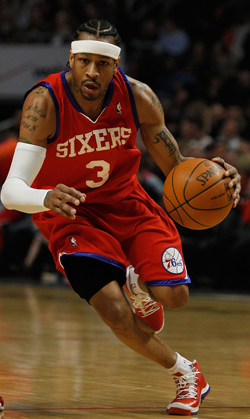 Last night,
we noted a Yahoo! report
that states all star guard Allen Iverson is set to agree to terms with Besiktas, a prominent basketball club in Turkey. Today,
the Associated Press reports
that a top official for the club believes a deal will be reached.
Besiktas executive board member Seref Yalcin told the Anatolia news agency Monday that he will travel to the United States to discuss terms of a possible deal with the 11-time NBA All-Star and former scoring champion.
Yalcin said he would discuss "a variety of details" with Iverson later this week. He said issues included schools in Istanbul for Iverson's children.
Yalcin said "I think this transfer will take place."
AFP news agency
provides greater detail and more quotes from Yalcin.
"Unless there is a massive difference of opinion, we think he will come to Istanbul in 10 days. "Our agreement is for a year with the option of extending it by another year. We have agreed wages of 1.5 million dollars for the first year, to which will be added a bonus of 300,000 dollars on his passing a medical after arriving in Istanbul," he added.
Iverson crashed and burned out of the NBA twice last season, first in Memphis and then later in a return trip Philadelphia, so it's not a huge surprise he wasn't able to drum up NBA interest. But Turkey? It seems a random and far-fetched home for Iverson. The question for The Answer: how long will he last?